"If You Were A Christian, You Were Shot On The Spot" Eyewitness Accounts Of The Kenyan University Killings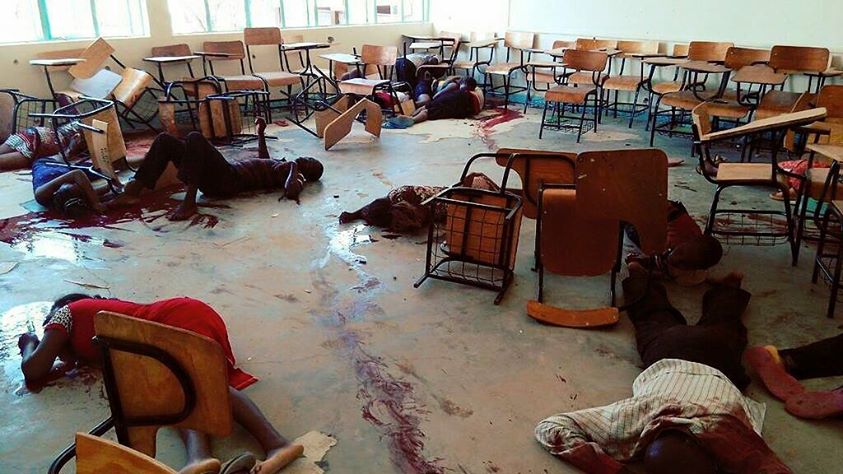 Estimated Reading Time: <1
by Musa Abdullahi & Agency Reports
"We sorted people out and released the Muslims," Sheikh Abdiasis Abu Musab, al-Shabaab's military operations spokesman, told Reuters.
One student, Collins Wetangula, told the AP that when the militants entered his hostel he could hear them opening doors and asking if the people inside were Muslims or Christians.
"If you were a Christian you were shot on the spot. With each blast of the gun I thought I was going to die," he said.
Students at Kenya's Garissa university awoke on Thursday morning to the sound of gunmen prowling the campus, shooting at their classmates. Nearly 150 people were killed in what would become the deadliest attack yet by al-Shabab militants in Kenya.
Her classmates were flooding out of the dorms, in boxer shorts and thin nightgowns. Gunfire was ringing all around her. People were screaming. It was predawn and pitch black.
"If you want to survive, come out!" the militants yelled. "If you want to die, stay inside!"
In the terrifying confusion, Ms. Karimi, 23, decided to risk it inside, she said, and stayed hidden in the ceiling above her bunk bed for the next 28 and a half hours.
"I knew those guys were lying," she said at the hospital, having just arrived to be checked after the ordeal.
Survivors said many students had fallen for the militants' trick, voluntarily walking outside and obeying commands to lie down in neat rows, only to be shot in the back of the head.
"All I could hear were footsteps and gunshots," student Collins Wetangula told the Associated Press news agency. "Nobody was screaming because they thought this would lead the gunmen to where they are."
"The gunmen were saying, 'Sisi ni al-Shabab,'" he said – Swahili for "We are al-Shabab."
The raid began at dawn – about 0530 local time (0230 GMT). Two Toyota Probox cars drove up to the university gates, according to Kenyan daily newspaper The Star. Five gunmen got out, wearing masks and jungle-style fatigues, the paper says.
They shot dead two guards at the gate and entered the campus. A labourer named Boaz Muanja told The Star he initially mistook the gunmen for police officers – until they began firing in his direction.
A student said she too mistook the armed men for police when she went to check on an explosion at the gates. "All of a sudden I saw them throw explosives… where the Christian Union members were praying," she said.