Finally President Goodluck Jonathan, First Lady, Get Accredited Via Incident Report, Card Reader Failed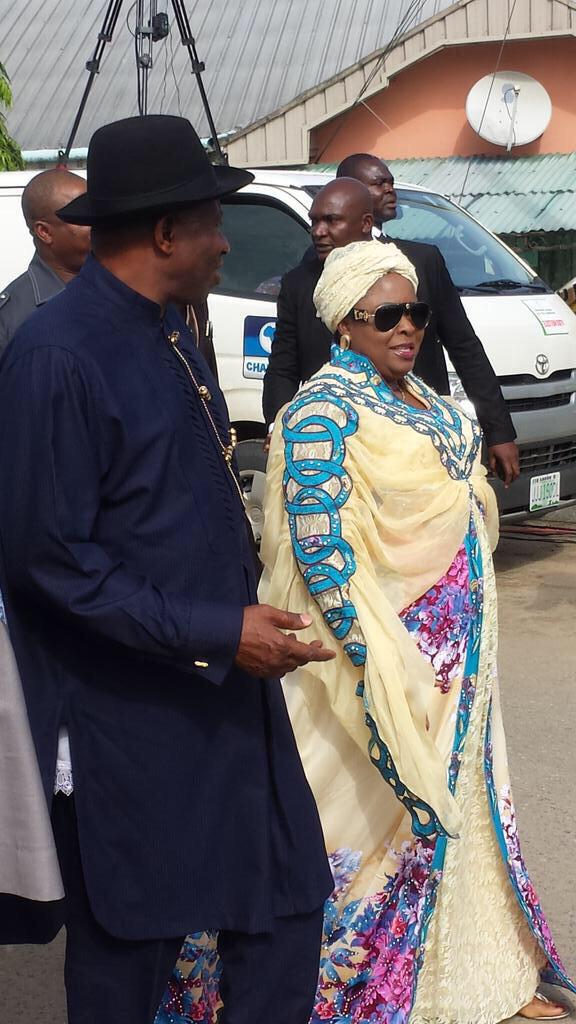 Estimated Reading Time: <1
by Musa Abdullahi
Nigeria's  President Goodluck Jonathan, First Lady, Dame Paticece Jonathan finally accredited using the Incident Report card as the card reader failed the first family in Otuoke, the President's country home.
Earlier, the President and wife were not YET accredited – confirmed by Bayelsa State INEC Resident Electoral Commissioner.
The Baylesa state INEC REC promised to see that the President is accredited but the aides to the President are said to have all been accredited to vote. The President and wife waited for over 40 minutes to be accredited but card readers seem not to reading their cards.
The card readers could not recognise the cards of the President and wife..
Speaking to Channels Television correspondent, the REC in Bayelsa said " I am not the Technical person so i don't know why the card readers failed to accredit the President but i am speaking to those in charge to provide a solution to enable the President gets accredited".
The President and wife have been asked to go back home pending when the issue is resolved by the commission, four card readers where tested but to no avail.
Shortly after waiting for minutes, the President advised Nigerians to be patient with the process and wish the card readers aren't failing Nigerians nationwide..
"What i want to know is that what is happening across the country" While he was waiting, the President puts a call through to the INEC Chairman, Professor Attahiru Jega to find out what is happening nationwide.
Jonathan unable to be accredited, confesses he sweated, urges urges all Nigerians to exercise patient. " I want to use this opportunity to commend Nigerians and congratulate them for coming out to elect the next President, senators and House of Representatives"
"There maybe issues" he said, "But this is the first time we are using this technology of voters card and card readers, i just spoke with the INEC Chairman to know what is happening across the country, President Jonathan is just one voter so even if we have problems with my own card, as long as nationally the process is going on well" he said.
The President speaking to newsmen in Otuoke after his accreditation went on to say, "They may be a way to resolve the hitches but insisted that "my interest is for us to conduct a peaceful and credible elections and i believe that no matter the hitches".
"Nigeria elections is an election that the whole world is interested in and my conviction is that the election should go on smoothly, i plead with Nigerians to be patient, see me sweating".
"I encourage Nigerians to be Patient with INEC" he said..