'Governor Amaechi Lied To Win Public Sympathy, No One Shot At Him' – Police Debunks Claims Of Attack On Amaechi's Convoy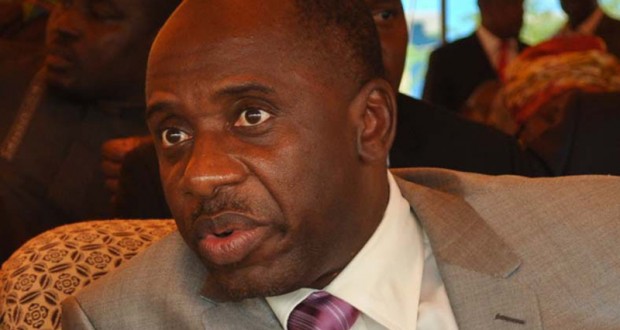 Estimated Reading Time: <1
By Chris Nomjov
Reacting to claims that the convoy of Rivers state governor, Rotimi Amaechi's convoy was attacked by suspected opposition thugs, yesterday evening; the Rivers State Police Command has disputed claims by the state government, denying any authenticity in the report that some thugs shot at the governor's convoy on Thursday evening.
If you missed the earlier story, read here thugs open fire on governor Amaechi's Convoy…
It would be recalled the governor's spokesperson, David Iyofor, had confirmed the incident of the alleged attack on the Governor"s convoy while on campaign, at Rumuolumeni, in the Obio Akpor area of Port Harcourt.
Contrary to those claims, the Rivers State command spokesperson, Muhammed Ahmad, in a statement said, shots were actually fired from the governor's convoy.
The police said Mr. Amaechi merely raised false alarm to win public sympathy to back his "bogus" claim of being targeted by assassins.
The statement issued on Friday reads, "The Rivers State Police Command wishes to react to the news that went viral on both normal and social media quoting David Iyofor, Chief Press Secretary to Rivers State Governor to the effect that gun shots were fired at the convoy of his principal at Rumuolumeni, Obio/Akpor Local Government."
The Police continued, "To put the records straight, after a successful and peaceful rally under the close watch of Policemen led by the Divisional Police Officer of the area, shots were indiscriminately fired from the convoy of the Governor for reasons best known to them, as against the wispy claim of David Iyofor. No shots were fired at the convoy of the Governor."
According to the Police, the false alarm which is the usual penchant of the State Government may not be unconnected with the bogus claim of assassination attempt by his principal that is to just whip up public sympathy.
"The Command urges politicians to refrain from whipping sentiments by toying with security issues to create needless public panic, where there is none, please." Statement concluded.