Finally, Aregbesola Opens Up On Why He Has Refused To Pay Osun Workers Their Salaries After 5 Months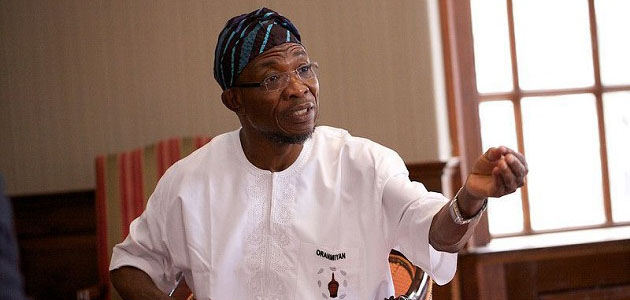 by PM News
Governor Rauf Aregbesola of Osun on Wednesday opened up on his inability to pay the salaries of workers in the state for five months, blaming it on "declining federal allocation."
The governor made the open confession at the 7th Bola Tinubu Colloquium organised to mark Tinubu's 63rd birthday in Lagos.
He said he was deeply pained and unhappy that he had not been able to pay workers salaries.
"I have found it hard to pay the wage bills owing to the declining federal allocation to the state.
"Federal allocation to the state has reduced by 40 per cent since 2013, making it difficult for government to meet up its responsibilities," he said.
Aregbesola said the situation became so bad at a time that he resorted to the state's reserves and exhausted it on payment of salaries.
The governor added that the government went ahead to accumulate debt of N12 billion in its bid to ensure that salaries were paid.
He said that he would not mind to borrow more "just to ensure that workers were paid but the "banks would not grant more loans."
He said: "Osun is next to Lagos in the sheer size of its civil service.
"In fact, the state inherited 50 per cent of all the workers in the old western state and more than 75 per cent in the old Oyo State.
"I was meeting my wage bill of over N3.6 billion with N4.6 billion federal allocation until July, 2013 when the Federal Government announced a decline of about 40 per cent allocation to states.
"This reduced the state's allocation from N4.6 billion with which I was meeting my bills to N2.6 billion.
"Since then, Osun has had to augment salaries by sometimes N1 billion, sometimes N1.6 billion.
"Before the last time I paid salaries in November, 2014, I have had to either spent the state's reserves on salaries or borrow money.
"Today, I have a loan of N12 billion that we spent on salaries and I could not go to the banks anymore."
The governor said that his administration remained pro-workers in spite of the tight corner it had found itself, pledging to pay the salary arrears as soon as the means was available.
He reiterated the commitment of his administration to the welfare of the people, adding that he had demonstrated the commitment with the implementation of a number of programmes.
He described Tinubu as "an icon through whom many great leaders had risen"