Robert Mugabe; Zimbabwe's 91-Year Old President Admits Fatigue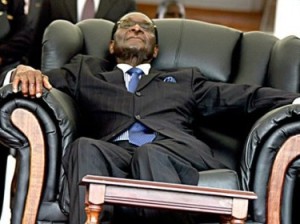 Estimated Reading Time: <1
President of Zimbabwe and the country's long-serving ruler, President Robert Mugabe, who has long been accused  of running down the southern African nation's economy has come out to voice his frustrations, saying he is "tired and very worried".
Last month, the octogenarian admitted he blundered by giving ill-equipped black farmers vast tracts of farmland seized from whites under his controversial land reforms.
In an interview with the state-owned Zimbabwe Broadcasting Corporation (ZBC) to mark his 91st birthday on February 21. Despite his ailing health, Mugabe continues to declare that he is still in charge, dismissing speculation that his increasingly powerful and ambitious wife Grace is now running the show.
"I think the farms we gave to people are too large. They can't manage them," Mugabe said, referring to black farmers who benefited from the land reforms.
In the 1990s, Zimbabwe  used  to be the  bread  basket  of Africa, but since Mugabe assumed power 35-years-ago, the country has degenerated into what is now being described as a basket case. Speaking during the 100 years commemoration of  his  former High school Kutama located in his rural  home in Zvimba west of Harare on Sunday, Mugabe said he was tired and disjointed. "I have the habit that if I have something that worries my mind, my mind sleeps on it and I constantly jump out of sleep and say is it not time, is it not time."
The oldest President in the continent, Mugabe has been on a globe-trotting treat at the expense of an ailing Zimbabwean economy. His foreign trips have continued to increase against a backdrop of hardships spawned by his government's failed policies. His flight to Algeria last night made it the seventh foreign trips since the end of January. Infact he has been airborne almost weekly since December last year. He is billed to fly to Ethiopia this week on African Union business.
The President's admission of fatigue came as speculation was rife last week that his ailing wife, First Lady Grace had also reportedly slipped out of the country to seek medical attention.
Opposition parties have condemned Mugabe's frequent trips abroad saying they were a huge burden on the country's finances. The main opposition MDC-T described the octogenarian Zanu PF leader, who turned 91 last month as "selfish and insensitive".  "It is not morally right for Mugabe to be hopping from one aeroplane onto another at huge State expense," party spokesperson Obert Gutu said.
Recently President Mugabe, who is battling with old age, missed a step and fell down at the Harare airport on his arrival from Africa Union summit in Ethiopia.