Thousands Turnout For Buhari 1-Million-Man-March In Lagos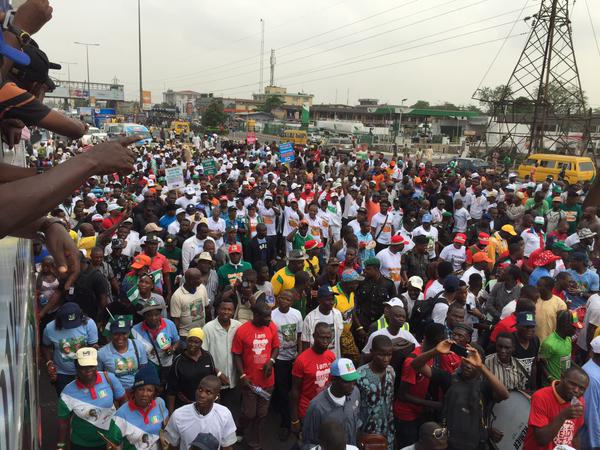 Estimated Reading Time: <1
by Deji Abiodun
The All Progressives Congress (APC) is currently holding a one-million-man march in Lagos in solidarity to its Presidential Candiate, General Muhammadu Buhari and demanding that the electoral umpire keeps the march 28 date promised to organise the polls.
The march kicked off from the Maryland area of Lagos at 8am to Teslim Balogun Stadium, Surulere in the city.
The march is led by stalwarts of the party like the national leader, Bola Tinubu and the Lagos State Governor, Babatunde Fashola.
The one-million-man march is to prepare the minds of supporters of the party for victory ahead of the polls.
Meanwhile, The Ekiti State Governor, Ayodele Fayose, has described the planned One-Million-Man march by the All Progressives Congress in Lagos as a "plot by the party to cause chaos and pandemonium in the state."
In a statement on Friday by his media aide, Lere Olayinka, the governor, who is a member of the Peoples Democratic Party, said walking the streets of Lagos by the APC would not remove the fact that the party was a congregation of "liars and deceitful people", who can
never be trusted with the resources of Nigeria and its people.
He alleged that the opposition party was planning the event in order to take the minds of the public away from the lies they told about Mr. Buhari's health status.
Photo Credit: Lola Shoneyin