PDP Denies Fayose Again! Dissociates Party From Ekiti Governor's Call For Jega's Sack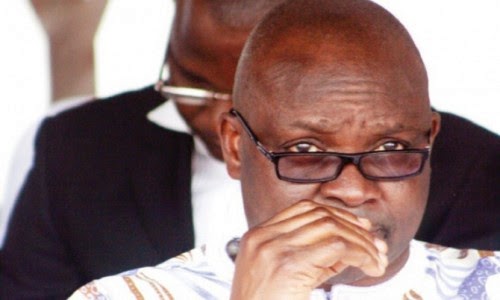 Estimated Reading Time: <1
The national leadership of the Peoples Democratic Party on Thursday said Governor Ayo Fayose of Ekiti State was not speaking for the party on the call for the sacking of the Chairman of the Independent National Electoral Commission, Prof. Attahiru Jega.
Fayose had called for the sacking of Jega, adding that if President Goodluck Jonathan decided to remove him, heaven would not fall.
But the party said the governor was merely expressing his personal opinion and that his statement should not be construed to mean the position of the party on the issue.
The Deputy National Chairman of the Party, Prince Uche Sedondus, stated this in an interview with journalists in Abuja on Thursday.
He said, "We are not fighting Jega. The opinion expressed by the governor of Ekiti State on the INEC chairman remains his own. He's not speaking for the party."
He further denied that the PDP was pressuring the President to sack Jega, saying, "Never, nothing like that is even cooking. There is no plan to remove Jega. "He added that the party "has absolute confidence in INEC and its leadership."
Secondus also boasted that the PDP would win the general elections comfortably, adding that the party would not bribe voters to return President Jonathan into office.
"We won't bribe voters to return the President into office. As a matter of fact, we have never bribed voters before, during or after elections," he added.
Secondus, who said the PDP was ready for the 2015 elections, said the party had decentralised its campaigns from wards to the polling units, stressing that claims that it was afraid of the use of Permanent Voter Cards and card readers were not true.
While responding to allegations that the PDP was jittery over the use of card readers, Secondus said, "Not at all. You know this is the first time that the country is going to try this technology.
"I think that this misinformation by the APC must be corrected. The PDP is not against card readers. The PDP believes that INEC should test it and it should be in perfect condition, so that we don't run into problems.
"So that on that day we don't have problems of it working in some areas and in other areas it won't work. I mean these are human feelings across the nation, not just the PDP but the entire country.
"Since it is the first time we will adopt this technology it should be in perfect condition so that people will not have cause to complain. This is the position of the party and I want to make it clear to Nigerians that the PDP is not against the card reader but we urge INEC to test run them so that they will be in perfect condition on that day."
He added that the collection rate of the PVCs by Nigerians, which he said, had reached more than 80 per cent, "is a welcome development."