Jonathan Admits That Opposition Is Now Stronger In 2015 Elections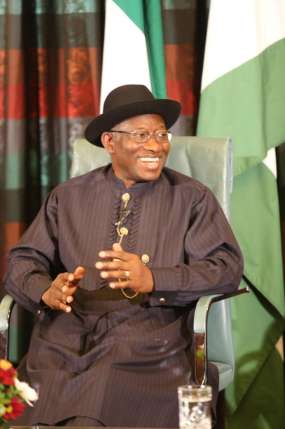 Estimated Reading Time: <1
By Chris Nomjov
President of Nigeria and Presidential flagbearer of the PDP, Goodluck Ebere Jonathan yesterday acknowledged that the opposition was stronger today than it was in 2011. He noted that this was so, because those who defected from the ruling Peoples Democratic Party (PDP) gave the opposition the strength it currently enjoys.
According to him, if former PDP members were to leave the opposition, it would crumble like a pack of cards, even as he said he was confident that the PDP was still stronger and would emerge victorious in the coming election.
Speaking when he appeared on an Africa Independent Television (AIT) live programme, Kaakaki, in Abuja, Jonathan also declared that the secondary school girls abducted in Chibok, Borno State in April last year, who have now spent close to a year in Boko Haram captivity, were still alive and would be rescued soon.
Acknowledging that the opposition was stronger now than in 2011, he said, "I agree with you, it was easier (in 2011), but PDP is still the dominant party.
"Yes, for one reason or the other, within the party people get angry and may even vote against PDP, but in terms of membership of the PDP, there is no party that has that spread. So, PDP still has the most formidable structure. PDP has better chances of winning a national election. Even the opposition will tell you, if they are realistic. Who has strengthened the opposition? Are they not the PDP elements? If you remove the PDP elements from the opposition, they will just crumble like a pack of cards.
"Why are people aggressive towards the PDP to the extent that even the presidential convoy is stoned? Why do you show that aggression? If you are comfortable, you will not do that."
Speaking further on why the election may be difficult, the president said, "Globally, it is more challenging for a president to secure a second term than the first tenure, because people get disappointed when their expectations are not quickly met by those they voted for." He, however, added that the PDP still had an edge over the opposition.