Akpabio Adamant Of Jonathan Clinching 90% Of Votes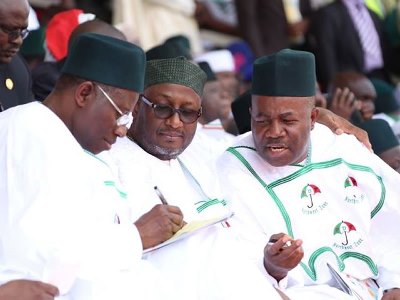 Estimated Reading Time: <1
Governor of Akwa Ibom State Godswill Akpabio has said that he is confident President Goodluck Jonathan of the Peoples Democratic Party, PDP, would win the March 28 Presidential election on the first ballot.
He boasted Jonathan would win over 90 percent of the votes cast across the country. "The meeting was just to take stock of the situation on ground and the report is very favourable. It looks like on the first ballot, we will win well over 90 percent of the votes across Nigeria,"
Akpabio said at the end of a marathon meeting Jonathan had with PDP governors and governorship candidates at the Presidential Villa, Abuja on Monday evening. According to Akpabio, who is the chairman of the PDP Governors Forum, the opposition was already in disarray ahead of the elections.
The governor added that in the four years of Jonathan's administration, he (Jonathan) has performed better than any other President in the history of the country. He said, "Today, Nigerians are much more aware of what the PDP administration under President Goodluck Jonathan has been doing

"I want to commend not only the President but also members of the Federal Executive Council who have opened the eyes of Nigerians to know that so many things have been done in the different sectors of the economy. "It was as if people did not know these things because the opposition took over and they kept saying PDP was doing nothing. Yet, in four years of the President's tenure, he has achieved far more than any President had ever done in the history of our country.
"We are very proud of the achievements of the PDP, not just at the federal level but also at the different states. "If you want to assess state-by-state, pick the opposition's best APC state in Nigeria and compare it with the best state of the PDP, you will see that we tower above the opposition in all ramifications. "The next election, particularly the election of March 28 will be about performance and issues. Nigerians have since gone above the level of tribalism and ethnic or religion differences. God put us together in this country and He knew that we are a multiplicity of religions and tribes."
Akpabio reiterated that the same way Nigerians came together in 2011 and voted for Jonathan, they would return him based on the fact that he has performed excellently.