Pro-Democracy Group Protests Against Further Election Postponement And Military Intervention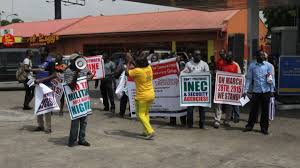 Estimated Reading Time: <1
by Deji Abiodun
Lagos-based Nigerians United for Democracy (NUD), Saturday embarked street marches and rallied in Lagos to protest against any further postponement of Nigeria general elections as well and military intervention in politics.
The group's protest march was led by prominent civil rights attorney, Femi Falana amongst other pro-democracy leaders.
The Nigerian Government led by the Chairman of the Independent National Electoral Commission, INEC Attahiru Jega had moved the elections from 14 february earlier slated to the 28 of March citing security concerns.
It is however alleged that the polls will still be moved thereby leading to a Military intervention or an Interim government, an opinion President Goodluck Jonathan has described as 'treason'.
The Various Political parties have however maintained that the March 28 day is sacrosanct and should not be moved for any reason whatsoever..