Fani-Kayode Alleges Tinubu's Plot To Take Over Power From Osinbajo; In The Event Of APC's Victory And Buhari's Ill Health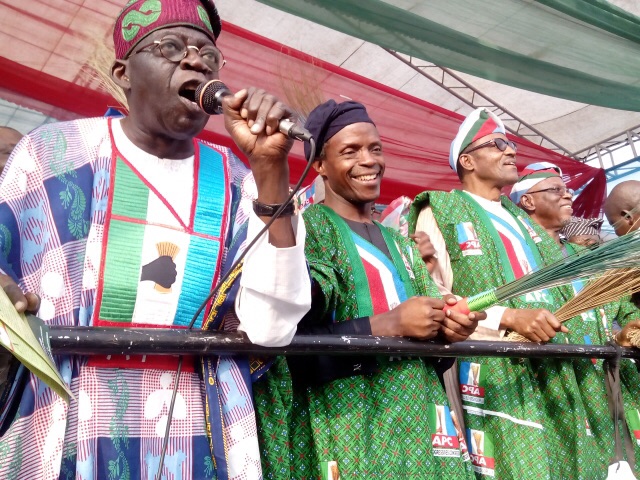 Estimated Reading Time: <1
Spokesperson of the PDP Presidential campaign organization PDPPCO, Femi Fani-Kayode alleged that a Chieftain of the APC, Bola Tinubu has compelled the Vice Presidential candidate of the APC, Prof Osinbajo to swear to an oath that he would resign as Vice President six months after inauguration (if their party wins) so that he can scheme his way into power if Gen Buhari dies in office.
Fani-Kayode alleged this grand plot, at a press briefing in Abuja.  
"The PDPPCO wishes to use this forum to expose the ungodly plan by Tinubu to seize the presidency of Nigeria by subterfuge. The real reason Tinubu nominated Osinbajo has been made known to us and we hereby offer a public service to the Nigerian people by drawing national attention to it.
"Tinubu wanted to be running mate to Buhari in spite of the nationwide resentment for Muslim-Muslim ticket that he and Buhari planned to foist on their party men and women. But when he and Buhari could not push through the agenda within the APC, he (Tinubu), after being given the opportunity to nominate a vice presidential candidate, he decided to prop up his stooge in the person of Prof Osinbajo.
Tinubu, according to our information, has compelled Osinbajo to swear to an oath that after six months in office, he would resign as the vice president, in the unlikely event that their party wins. Credible pieces of information at our disposal indicate that Tinubu has perfected plans to come to power through the back door.
The ultimate objective of this plot is to ensure that Tinubu becomes president. The script is simple: given the questionable health of Buhari, Tinubu, who is desperate to be president for his own selfish reasons, will simply bid his time in the evil expectation that Buhari will not be able to go the whole hog." Fani Kayode said