Breaking: 'President Jonathan Moves To Freeze Bola Tinubu & Rotimi Amaechi's Accounts'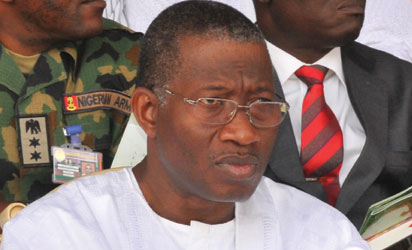 Estimated Reading Time: <1
by Musa Abdullahi
The All Progressives Congress Presidential Campaign Council (APCPCO) has alleged that President Goodluck Jonathan and Peoples Democratic Party (PDP) are plotting "to clip the electoral wings of the APC" by grounding of aircraft and freezing of bank accounts of party stalwarts".
Garba Shehu, director of media and publicity of APCPCO, said in a statement on Saturday said, "In as much as we understand politics to be a game of wits and guts, yet the desperate way and manner the PDP and its henchmen are going is anathema, criminal and inimical to our nascent democracy and civilised human behaviour.
"Hence, any attempt by anyone to cripple the APC and its presidential candidate will be foiled by the citizens who have taken over the movement of change as symbolised by Muhammadu Buhari.
The party said, "The hint we gather from sources is that the government, through its agents, is plotting to ground aircraft and freeze bank accounts of APC stakeholders. But history has shown that the forces of evil can never succeed against the zeal of men and women of virtue and good deeds.
It says, "Information at our disposal has uncovered the ruinous plan by the Jonathan administration to use the aviation ministry and secret arm of the Security Service to hound and clamp down members of the APC, by prospecting obnoxious means that would ground private jets belonging to senior members of our party, in order to halt and slow down Buhari's world-acclaimed phenomenal popularity as president-in-waiting, Garba Opined.
"There is also a plot to block or freeze the bank accounts of APC chieftains like Bola Ahmed Tinubu, Rotimi Amaechi (director-general of APC Presidential Campaign Organisation), and other prominent leaders believed to be funding the general's campaign; and availing him their aircraft for electioneering purpose."