C.E.O Chocolate City, Audu Maikori Talks About His Time As An Activist & The Popular Face-Off With The Police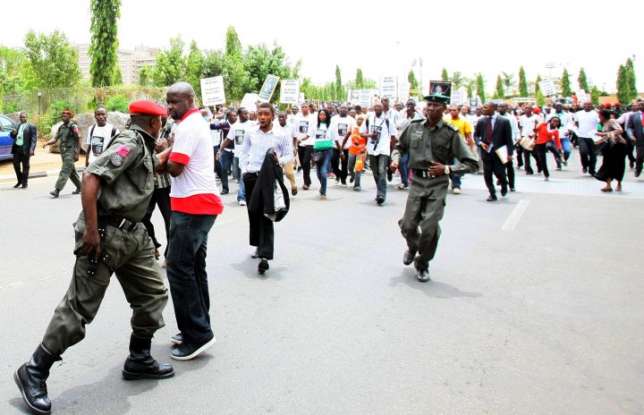 Estimated Reading Time: <1
by Zenith Oduah
You remember this photo of Audu Maikori that trended years ago? If you don't, we will try to tell you a little and read the rest from Audu's interview below.
Mr Maikori an active member of the Youth Led group, Enough is Enough Nigeria was battling the Police opposite the National Assembly gate when officers barricaded the complex from protesting youths that were demanding the constitution be respected during the late President Umaru Yar'adu era.
Yar'adua who was critically ill then hadn't been seen by Nigerians and the cabinet then was split between the "Cabal" and those who didn't know what to do thereby leading to a constitutional crisis as then Vice-President, Goodluck Jonathan wasn't allowed to take charge of the country.
5 years on, Audu Maikori, now a member of the Federal Govt's SURE-P Scheme, has finally shared details of what went on during the 2010 protest in Abuja, speaking with my podcast Africa.
"To be honest, I was as shocked as everybody in that picture. I didn't even know when it happened." Audu began.
"I have never really been afraid, I'm not the person that gets really scared easily. I'm not saying I'm brave. I'm simply saying that I believe in what I believe in. I believe that once you have faith…I believe you have to stand up for it.
"What happened at that point was simple; we've been frustrated, we have been waiting, they didn't allow us, we have been negotiating…they kept on (saying), 'no we can't go through, no we can't go through.' I was right in front with the rest of the guys, and we were trying to push through. And because everyone wasn't sure because there were policemen all over.
In addition, the protest was also inspired by the gruesome attack on Christians in Jos, which led to the death of over 500 people in villages around Jos. Dogon Na Hauwa, a few miles south of the city, was the worst hit, with over 400 people buried in mass graves.
Audu reveals that he was past fear, accepting death as a normal event of human existence, and that was part of his thought process when he took on the security guards at the National Assembly.
"At a point in time, we broke through the barricade. I was one of the first guys, I was running, and that happened. But in my mind, I was just like, 'guess what', people die all the time anyway. People die all the time, people die from accidents, from medical negligence. A few weeks before that, people in Jos were burnt, people have been raped, people have been displaced.
"And this is the place that I grew up sort of, that I schooled for four-five years. I was saying that, I could have been one of those guys, if this happened when I was in school. I could have been of those guys that people just came and (attacked)…"
"Am I really better than the person who was killed in his sleep? No. I'm not."
For Audu, that was just an event in a long history of social activism. He further explained his convictions, stating that his refusal to compromise on his core belief is responsible for most of his actions, including standing up to oppressive authority.
"But I also have always stood up to authority, I've slept in Police stations two or three times. It's not an issue for me. But I will not compromise in what I believe in. You can't force me to bribe you…so if you need to go there, then let's go there". Audu declared.
"I wasn't trying to be Mr Macho, but it's what comes naturally to me when people try to force or try to oppress, I've always fought back. That's classic me. If you know me, you'll know that I'm a bit strong-headed.