"Insurgency Is A Global Problem" Katsina Voters Talk About 2015 Polls Ahead Of #Nigeriadecides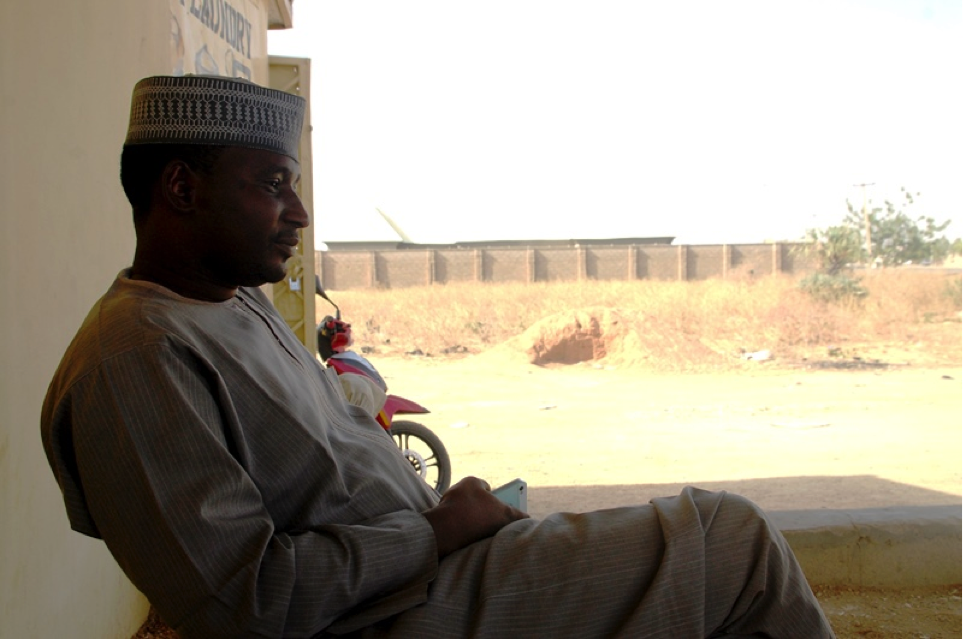 Estimated Reading Time: <1
by Tahir Sherrif
A recent local opinion poll by NewsWireNGR shows that politics in Katsina state is more than just the candidates and many are still looking towards a PDP dispensation and a continuity of the Goodluck Jonathan administration.
Insurgency is a global problem, it has nothing to do with Goodluck Jonathan and I will vote him again. –Gidado Mohammed
Gidado Mohammed, 36 a business man in the heart of Katsina state Nigeria, like many others, hold that insurgency is not a problem of the present administration and on this premise he says he will remain faithful to the People's Democratic Party (PDP) and vote Goodluck Ebele Jonathan in coming elections.
Figure 1 Mohammed Gidado popularly known as 'Mighty' is a business man and proud Jonathan supporter living in the heart of Katsina state.
"The PDP and President Goodluck Jonathan have really done well in Katsina state, and nobody can deny this. No matter who wins, we believe that the political infrastructure installed by the PDP especially under the Umar Musa Yar'Adua administration will force the winner to do well."
Of course, Gidado is not the only person who holds this view in Katsina state; a place which has been under the control of the People's Democratic Party (PDP) since the return of Nigeria to democracy, yet doubles as home to the opposition party leader and former military ruler of Nigeria General Muhammadu Buhari (rtd).
Gidado is a businessman who hails from in Katsina state and still resides in the state. When asked about his view on the insurgency currently affecting other parts of northern Nigeria under the Goodluck Jonathan administration he responded by globalizing the problem.
"All over the world, you can see the problems caused by rebels and insurgents. Even as close as Kenya or far places like Russia and Saudi Arabia, there exists some form of insurgency."
"PDP has done really well in Katsina state, thanks to the legacy left behind by the former governor of Katsina state and all the former President of Nigeria Late Umar Musa Yar'adua and the current governor Ibrahim Shehu Shema."
Under Shema Katsina state has witnessed rapid economic developments and empowerments. Like Yar'adua even Shema got to understand that the government cannot employ everybody and then got to work building infrastructures that support development, take for example the Umar Musa Yar'adua University Katsina state (UMYUK) which we now here graduates close to 1,000 students yearly.
Arafat Mohammaed, 33 shares the same view with Gidado but faults the current dispensation in areas of job creation, income distribution and price regulation.
"Here in Katsina state, all the candidates are the same. Goodluck has done his best, he may be a nice person, but he also has no idea about all that is going on over here. The issue of unemployment especially under this current administration is too bad, and this is where almost all the problems come from."
Arafat is a local football coach and student at the Umar Musa Yar'adua Univeristy Katsina state. He believes that the PDP has also done immensely well in Katsina state and states that he isn't too interested in who emerges as winner at the gubernatorial polls commencing in April.
Figure 2 Arafat Mohammed, 33 is a local coach, and also a student of the Umar Musa Yar'adua University Katsina State, Nigeria.
"Whether Nashuni (PDP) or Tata (Alliance) or Masari (APC) wins the election here in Katsina, nobody really cares because the people of Katsina state will hold them accountable irrespective of their political party, and the current governor has done very well though he is a member of the PDP.
Arafat is a registered All Progressive Congress (APC) member and says he will vote General Muhammadu Buhari at the polls in April, but only because he respects the personality of the former military ruler and also because like Buhari he is also an indigene of Daura.
"Even if Buhari wins the presidential elections we do not expect him to perform miracles because the country is really in a serious condition." Arafat added.
On 20 January 2015 during President Goodluck Jonathans campaign to the state many indigenes of Daura were asked to leave the state capital for Daura in a political move aimed at throwing support to the opposition party leader General Muhammadu Buhari who is a Daura indigene. Although tension was high during the rally which had to be postponed because some youths threw objects at the presidential convoy, turnout remained massive.
Katsina state has remained largely a PDP controlled state since 1999; it is also home to former President Umar Musa Yar'adua and former military ruler General Muhammadu Buhari (rtd). Coming elections will set the state on a collision course; where voters will have to decide between party loyalty and candidate popularity.