NFF Awaits Keshi's Burkina Faso Outcome Before Announcement On Eagles Coach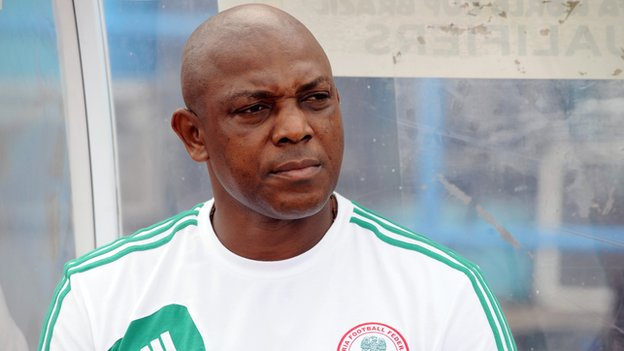 With Stephen Keshi in the frame to becoming the next coach of the Stallions of Burkina Faso, it has been gathered that the Nigeria Football Federation will announce a successor to the former Super Eagles captain almost immediately if he is named as coach of the Francophone country.
There has been a 'deliberate delay tactics' by the NFF in handing the 52-year old a new contract, which has seen the Super Eagles without a substantive coach since Keshi's contract expired last summer after Nigeria's exit at the FIFA World Cup in Brazil.
Reliable sources at the Glass House have informed that the NFF have a draft of a contract proposal to Keshi, but they're sure it will be rejected by the 'Big Boss', as it includes stringent clauses and a pay cut.
The source said, "there is a proposal they have at the moment, but I'm sure the Big Boss will not accept it because there are very stringent clauses on how he'll work and a pay cut as well."
Now that Burkina Faso are having the former Mali coach as one of the candidates as a possible replacement for sacked Paul Put, the NFF is all ears waiting for the outcome. A coach will be appointed almost immediately after, if Keshi is named the Burkina Faso coach.
"They (NFF) will almost certainly appoint a new coach immediately Keshi is announced as coach of Burkina Faso. There is a deliberate delay tactics on their part not to offer him a deal, and since there are no competitive games until June, they are happy to wait," a source informed.
Keshi was fired last October after Nigeria defeated Sudan 3-1 in a 2015 Africa Cup of Nations qualifier, but was believed to have been reinstated by the presidency, and as a result, the NFF have found it difficult to get rid of him, even though he doesn't have a valid contract with the Glass House.
Keshi is in contention with French-German, Gernot Rohr and Serbian, Milovan Rajevac to become the next Burkina Faso coach.