Six Killed, Many hospitalised As Buhari Supporters Raze PDP Campaign Office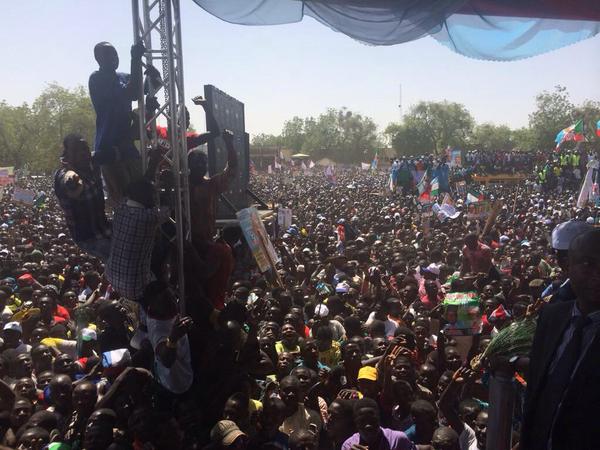 Estimated Reading Time: <1
No fewer than six people amongst them were suspected members of the All Progressive Congress (APC) including asmhatic patients reportedly feared dead with several others injured in a stampede at the APC's presidential campsign/rally held at the Ramat Square, Maiduguri, the Borno state capital.
Six people were killed during the uncoordinated visit, as the governor had since visited the victims at the hospital.
The rally which was well attended by the APC presidential Candidate, General Mohammed Buhari, his running mate, Professor Yemi Asibanjo, Governor Kashim Shettima, state and national candidates of the APC, party stalwarts and thousands of its supporters thronged the streets as early in the morning, while many others had jump over the fence to venue of the rally amidst tight security.
It was observed that due to closure of gates leading to the venue by security operatives, all the four gates were later broken down by rampaging youths, even as many had to scale through the fence to welcome the general.
Sources said, the five people killed were two asmhatic patients who were trapped in the stampede at the venue, while others died as a results of accident and a stray bullet fired by security operatives while controlling crowded that attempted to burnt down PDP offices in the state.
Also the PDP Campaign office of ex- governor Ali Modu Sheriff located few metres to the venue of the rally along Kashim Ibrahim Way was set ablaze by APC thugs who overpowered security operatives after breaking the gate and threw explosives inside.
Many PDP campaign centres located at strategic positions in the city of Maiduguri were vandalized with posters and bill boards were also destroyed by hired APC thugs during the visit.
Likewise, four people who claimed to be members of Civilian JTF were shot by security operatives while attempting to stop two trucks loaded with military arms and ammunitions that were entering the town. Sources and residents said, the trucks were intercepted around Umar Shehu General Hospital in Bulumkutu of the metropolis and when the security men attached with the trucks insisted that the arms and ammunitions belonged to military operatives, the youths refused to heed to their explanations, a situation that led to disagreement which resulted to shooting of the four youths.