"Some Chibok Girls Are Still Alive" – Escapee Reveals In New Video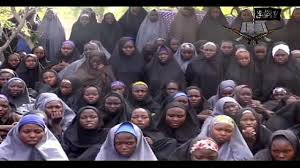 Estimated Reading Time: <1
By Chris Nomjov.
Cable Network News (CNN) shared a video, Friday, of a young lady, who is reportedly, an escapee, amongst another set of women abducted by Boko Haram; where she claims that, some of the girls are still alive.
Monica Sunday, a 20-year-old Christian woman who was once held captive with 24 of the girls, in a chat with Jonathan Miller of UK-based Channel 4 News said that although they were forced to cook for the insurgents who were in their thousands, the girls looked physically well.
Monica was kidnapped in Kiva village, Borno state, months after the Chibok girls were seized from their school but she spent three days with them in November.
She also stated that the Chibok girls were very tearful and homesick. "They were very emotional. "None of the girls really talked very much," she said at her an Internally Displaced Persons (IDP) camp on the outskirts of Abuja, where she is now trying to restart her life.
"They just cried and prayed and lamented for their parents. I comforted them and told them to have faith in God and that he would open a way for them so that their nightmare would be over."
Monica who lost her son Abraham John in the course of her escape, said that her escape still remains a mystery as the insurgents simply decided one night to drive her out of the camp into the bush with her baby, for reasons that were never explained to her.
She started walking east, towards Gwoza. It was a journey that took her several days, without food. As a result, her baby died somewhere along the way and Monica, now completely alone, said she was unable to bury the child.
"I had to just leave his body in the bush," she said. Although she spoke quietly and without emotion, she was grateful to still be alive. Speaking further on the lives of the abducted Chibok girls in Boko Haram detention, she said they wore simple head-coverings – not full hijabs – and none of them had caved in to pressure to practise Islam.
Although the insurgents have a reputation for sexually violating abducted women, Monica insisted that the girls had not been sexually abused and none of them was pregnant. "The girls I was with were all in their mid-teens, some a bit younger, some older," she said.
"None of them was sick." She said she did not know where any of the other girls, among the 219 still missing, were held. She also said that none had been forced into marriage. Monica knew about the kidnap of the Chibok girls before she herself was abducted.
"They divided them up. Some were taken to Gwoza [near Nigeria's border with Cameroon, near to where Monica herself had been abducted]. Not all of them are held in one place." This is in line with earlier reports that the girls had been split up into smaller groups and dispersed across the region.
She explained that the "room" in which she was held with the Chibok girls was a shanty-style lean-to, its roof just polythene sheeting. After three days, she was moved to another part of the camp where she was held with more than 40 other women from across northern Nigeria, who, like her, had all been kidnapped.
"Among them was one particular woman who they beat until she was bleeding all over her body because she refused to convert to Islam. She eventually succumbed," she said. She repeatedly turned down forceful attempts to convert her to Islam.
"They were really angry with me and shouted and screamed at me and called me 'arney' – an abusive term for 'infidel' in the Hausa language." She was not physically hurt by her captors, but the experience at their hands in the Sambisa camp, having been marched for two months through the bush, has left her shattered.
"Every time I hear their name," she said, "I shake with fear." She named the Boko Haram commander in the Sambisa camp as 'Ibrahim Shekau', an "assistant" to Abubakar Shekau. She could not say if both men were related.
Monica also narrated that the camp was huge, and sprawled through almost impenetrably thick forest terrain.
According to her, there were at least 1,000 women held captive there and thousands of rebel soldiers.
"Most of the soldiers are out in the bush all the time, hunting others," she said. "They had guns and uniforms and many military vehicles, and there were access roads." These roads, she explained, allowed Boko Haram to bring tankers, carrying drinking water, into the camp. She said there was enough food, mostly looted from nearby villages. "They even have grinding machines," she said.
"We had rice and we had corn. No meat, but sometimes there was fish." It is known that there is military aerial surveillance of the Sambisa forest region, so the existence of many vehicles – including water-tankers – would suggest it would be possible to spot the camp from the air.
Asked on the possibilities of an escape for the Chibok girls from Sambisa, she said: "It would be very hard."
It's been over 300 days since over 200 school girls were abducted, from their school, in Chibok, Borno State. Their abduction generated wide spread outcry with the #BringBackOurGirls campaign, but no major respite has been achieved in their search.
In his media chat, few days ago, President Jonathan reassured Nigerians and the world, of his administration's readiness to search and return the girls to their parents.
http://edition.cnn.com/videos/world/2015/02/12/pkg-nigeria-boko-haram-escapee.itn