Governor Amaechi Denies President Jonathan, PDP Access To Rivers Stadium For It's Campaign Rally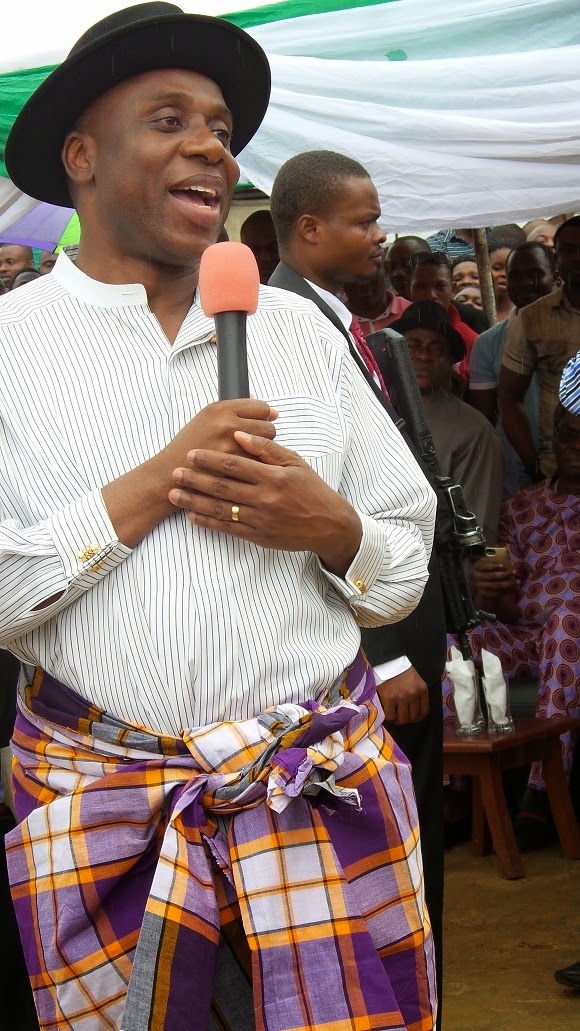 Estimated Reading Time: <1
Tension is now brewing in Rivers state following the insistence of the Rivers state governor, Rotimi Amaechi, that President Goodluck Jonathan's campaign cannot hold at the Adokiye Amiesimaka Stadium, Port Harcourt, next week Wednesday, while the People Democratic Party (PDP) in Rivers also insists it must use the venue.
Amaechi, who stated this during the All Progressives Congress (APC) governorship campaign at Etche on Thursday, during a local radio programme in Port Harcourt said that there was no way the state government will chase out the contractor on site for one week as requested by PDP for the presidential campaign rally. The contractors working on the 40,000 capacity stadium are struggling to complete it to meet with commissioning deadline.
NewsWireNGR recalls that Governor Rotimi Amaechi opened same Stadium in Port Harcourt to flag off the All Progressives Congress South-South presidential rally for Muhammadu Buhari …
Amaechi said on the two occasion that APC used the stadium for rallies the contractor had to move their equipments out of site at an undisclosed cost on the government.
The governor explained that the state government had offered the PDP other alternative venues like the Liberation Stadium also in Port Harcourt, noting that, the contractor had personally complained to him that he needs to complete construction work at the stadium before May, and that he could no longer accept to stop work.
However, Nyesom Wike, the governorship candidate of PDP and the Rivers State Chapter, which had threatened to forcefully use the facility for the presidential rally, have put the police and other security agencies notice over the governor's alleged threat to mobilise his supporters against the PDP should it insists on holding the presidential state campaign rally in Amiesimaka Stadium.
Jerry Needam, the Special Adviser on Media to the state party chairman said by refusing to grant the party the privilege to use the stadium for President Jonathan's rally, Governor Amaechi has sufficiently proved that he has natural dislike for the president, and is only using party politics as a cover to get at the President.
The party said that rather than focus on issues in course of the ongoing campaigns, Governor Amaechi has resorted to cast aspersions on the president. It also alleged that the governor had during a live radio programme aired in Port Harcourt threatened fire and brimstone should the PDP go ahead to hold any rally for President Jonathan in the state-owned Amiesimaka Stadium.
"The PDP wants Amaechi to note that there is a difference between him and the state and by extension, state-owned institutions and should stop acting as though these institutions are his personal property. Regrettably, the only reason he (Amaechi) has given for refusing the PDP to use of the new stadium is that he is the governor and has the right to say No. This is outright turning himself to the 'state', which is wrong and anti-democratic.
"While we do not wish to join issues with Amaechi, we also make bold to say that Amaechi's threats are a pointer to concluded plans to cause breach of the peace and order in the state and should be invited by the law enforcement agencies for interrogation and should also be held responsible for any possible crisis before, during and after President Jonathan's presidential rally in the state."