Suspected PDP Members Alleged To Have Sacked APC Campaign Rally In Rivers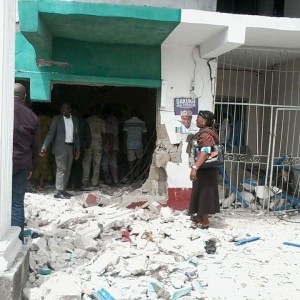 Estimated Reading Time: <1
Suspected political thugs on Saturday attacked members of the All Progressives Congress [APC], who were setting up equipment and canopies for a scheduled political rally, the APC chairman in Okrika, Christian Asifamaka, has said.
In a statement entitled "Again, the PDP-led Federal Government attacks the people of Okrika" and emailed to newsmen Saturday morning, Mr. Asifamaka said his party members were shot at and chased away as they readied the venue of a scheduled rally.
Mr. Asifamaka said, "In the wee hours of the morning of Saturday 24, 2015 at about 3:45am some armed youth started shooting at the venue of the APC governorship rally at National School field, Okrika.
"Those setting up the sound system and the podium were forced to flee for their lives. At about 4am they started shooting explosives into the arena and destroyed the podium, sound equipment and some canopies.
"Okrika is the home of Nigeria's First Lady Mrs Patience Jonathan. She was present and held the PDP governorship rally at the same venue on Thursday January 22, 2015.
"The boys came in a white hiace bus and allegedly came in from Igbiri, a community that shares borders with Mrs. Jonathan's Oba Ama community."