Document Reveals Muhammadu Buhari 'Allegedly' Suffers From Prostate Cancer [Report]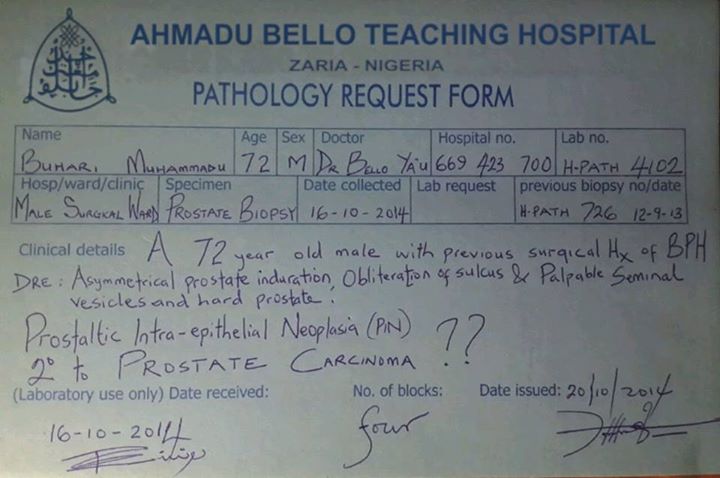 Estimated Reading Time: <1
Document contained in this report cannot be independently verified by the management of NewsWireNGR, hence the disclaimer as seen below the report but it's a story reported by NewsDay .
It is has been revealed to NewsDay Reporters that the Presidential candidate of the All Progressives Congress, APC, in the February 14th presidential election is suffering from a prostate cancer, a medical report obtained from Ahmadu Bello Teaching hospital has revealed.
According to the medical reports exclusively obtained from the teaching hospital by our team of investigative reporters, a method known as Digital Rectal Examination (DRE) was used in detecting the prostrate cancer clinically.
As learnt by our team of investigative reporters, the DRE findings was indicative of prostate cancer, arc; Asymmetry of prostate gland. A nodule, induration of part or whole prostate, Hard or woody consistency of part or all of the prostate, obliteration of the median sulcus in advanced cases, Palpable seminal vesicles.
"The case of Pa Muhammadu Buhari is a serious medical condition as it has gotten to the levels of that of an Elevated prostate-specific antigen (PSA)" says the doctor who do not want his name on print for fear of victimization.
According to him, "Pathology tissue biopsy was involved in the diagnosis that produced the results."
Prostate cancer as learnt by our team of investigative reporters is the second most common cause of cancer death in men and the number one noncutaneous cancer in men.
It is a slow-growing cancer, thousands of men die of the disease each year.
Concerns has been continued to be raised on the health conditions of General Muhammadu Buhari over what many may describe as failing health issues.
NewsDay Reporters recalls that Buhari who was visibly looking frail and weak, fell down in a Calabar stadium on 07/01/2015, as a result of fatigue, though his party, APC, claimed it was his long cloths that tripped him.
Pa Muhammadu Buhari (73) was also 10 hours late to his campaign in Warri, Delta state, as close Aides complained that "he was so weak this morning and needed medical attention".
The health conditions of general Muhammadu Buhari has continued to be a serious case as most of the Northern leaders are seriously considering renegotiating with President Goodluck Jonathan to continue till 2019 when they will have to field a young and energetic Northern candidate as they try to evade the Yar'Adua scenario from happening again.
According to a source, "The North is beginning to rethink the promised support for Buhari in view of reports that he is suffering from a certain ailment which is believed to be wearing him down. There are also reports that the elders are pushing to cut a deal with Jonathan to complete his tenure in 2019 but extract a promise that power would be returned to the North via a younger and energetic Northerner," the source said.
Because according to him "If anything happens to Buhari, power will return to the South-West less than a decade after President Obasanjo left Aso Rock."
Disclaimer
It is the policy of NewsWireNGR not to endorse or oppose any opinion expressed by a User or Content provided by a User, Contributor, or other independent party.
Opinion pieces and contributions are the opinions of the writers only and do not represent the opinions of NewsWireNGR.