"Get Ready For A Tough Year" – NLC Tells Nigerians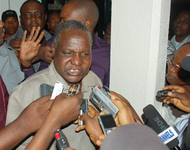 Estimated Reading Time: <1
The leadership of the Nigeria Labour Congress (NLC) has asked Nigerian workers to brace up for the worst in 2015 as it appeared the government of the day was not yet in tune with solutions to real challenges bedevilling the country.
President of NLC, Abdulwahed Omar, in a New Year message to Nigerian workers on Wednesday, carpeted the Federal and State governments over poor handling of the welfare of majority of workers.
Omar rated the political gladiators below average, particularly on the management of insurgency occasioned by the Boko Haram.
He said the inability of government forces to locate and rescue the Chibok girls remained a dagger piercing the heart of the nation, adding that the thoughts and prayers of Nigerians remained with the families of the girls as we celebrate the New Year.
The NLC also lamented the strikes that characterised key sectors of the economy, saying the refusal or inability of government to honour agreements it voluntarily entered into with the unions culminated in most of the industrial actions.
Omar said: "We note with burdened hearts, the spate of strikes across the sectors, especially in health and education, largely because of the refusal or inability of government to honour agreements it voluntarily entered into with the unions," he stated.
"Collated reports from our state councils indicate that a number of state governments and some federal MDAs have not paid their workers for December as the year comes to an end. Of the 30 states reporting as of December 30, 11 subjected their workers to a Christmas/New Year celebration without the December salary.
"Three of these, Benue, Plateau and Osun, owed their workers arrears of salaries ranging from three to eight months! Some Federal Government employees in the Ministries of Education, Labour and Productivity, among others, are owed arrears of salaries ranging from one to three months.
"We condemn this insensitivity to the welfare of workers. Any state Governor who cannot pay workers their salaries, as and when due, has no moral justification for taking his own salary and allowances. We call on workers to massively reject these anti-worker politicians in the 2015 elections," he stated.
On the political front, Omar said little was done to deepen democratic culture in the polity as government, through the institutions of the state, especially the police demonstrated unacceptable intolerance of political opposition.