Mubarak Acquitted Of Murder, Corruption Charges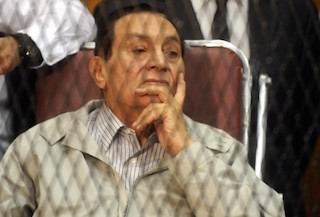 An Egyptian court on Saturday acquitted five top security commanders charged with murder alongside ousted president Hosni Mubarak over the deaths of hundreds of protesters during a 2011 uprising.
Judge Mahmud Kamel al-Rashidi said the commanders, including Mubarak's former interior minister Habib al-Adly, were "innocent."
The court also acquitted Mubarak of corruption charge. The 86-year-old was wheeled into the caged dock on an upright stretcher, dressed in his trademark shades and wearing the blue clothes of a convict.
He was flown to the court in a Cairo suburb by helicopter from a military hospital. Despite the acquittal Mubarak would not be released because he is serving a three-year sentence in a separate corruption case, a judicial official said ahead of the verdict.
Mubarak was overthrown in February 2011 after an 18-day uprising, ending his three-decade rule and ushering in a period of turmoil that eventually led to the ouster of his Islamist successor Mohamed Morsi last year.
An appeals court overturned an initial life sentence for Mubarak in 2012 on a technicality. The new verdict was initially scheduled for September 27, but chief judge Mahmud Kamel al-Rashidi postponed it, saying he had not finished writing the reasoning after a retrial that saw thousands of case files presented.
Security was beefed up around the court at the sprawling police academy on the outskirts of Cairo, with 5,000 police deployed, the official MENA news agency reported, citing a senior official. The sons, Alaa and Gamal, arrived at the court ahead of the verdict.