SSS Reveals APC Captured Individuals 18 Times With Different Names, Addresses After Raid At Data Center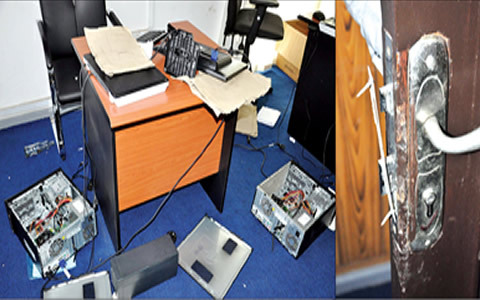 PRESS STATEMENT
A petition alleging that cloning activities of INEC Permanent Voters Card (PVC) by some unscrupulous persons with intent to hack into INEC data base, corrupt it and replace them with their own data was ongoing at No. 10 Bola Ajibola Street, off community Avenue, Allen Avenue, Ikeja LGA, Lagos State.
Consequently, the Service placed the premises which had no Sign Post under surveillance and was convinced that unwholesome activities were ongoing within.
On 22nd November, 2014, a search operation was executed at the above address were a Search Warrant obtained from the Court was executed. The search was carried out in the presence of one Onuchukwu Chika AUGUSTINE and twenty four (24) others, while and the following items were recovered:
i. One (1) server;
ii. Four (4) hard drives;
iii. One (1) external hard drive;
iv. One (1) HP Laptop;
v. One (1) Server switch;
vi. Four (4) flash drives;
vii. One (1) Samsung tablet;
viii. One (1) Apple computer system without CPU; and
ix. Thirty one (31) Ghana-must-go bags containing hard copies of already captured data.
All items recovered were documented at the back of the Search Warrant signed by the Service team leader and was witnessed by two (2) occupants of the premises, Onuchukwu Chika Augustine, an IT personnel and Olaposi FAYEMI, a supervisor on duty. It is also important to state that, photographs (still and video) of Service personnel entering and exiting the premises were taken. The search operation lasted for two (2) hours.
Exploitation of some of the recovered items has revealed that one particular individual had his data captured eighteen times with different names, addresses but yet the same photograph.
However, further investigation is ongoing and findings shall be made public.
Marilyn OGAR, msi
Deputy Director, Public Relations,
Department of State Services,
24th November, 2014.