Nigerian Military Adopts Aggressive Approach, Moves To Attack Sambisa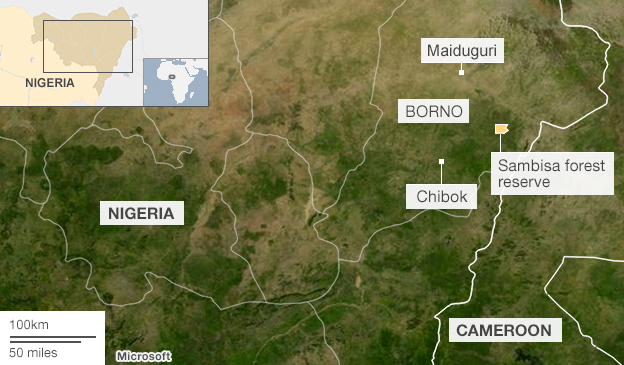 While the battles raged in Chibok and Gwoza, a large number of soldiers were seen in Maiduguri yesterday moving towards the dreaded Sambisa forest, the fortress of the terrorist Boko Haram sect in Borno State, thus signaling the commencement of an operation, which military sources said was aimed at recovering the forest from the insurgents.
The push for Sambisa forest started early in the morning with hundreds of soldiers seen on Damboa Road, Maiduguri, in several military trucks driving military equipment towards the forest which has been a no go area for sometime now.
Though no military personnel was ready to give information on the deployment which held traffic up for hours within the Maiduguri metropolis, but the looks of the soldiers showed that they were battle ready.
THISDAY checks revealed that following the Mubi debacle, the military had vowed to adopt more aggressive but tactical and effective approach to strike back at the heart of the terrorists.
A top intelligence source disclosed that Mubi attack was a total shock to the military, especially as they lost many soldiers including some respected officers with others fatally wounded in the incident.
"The first priority was to liberate Mubi because of its strategic nature and its symbolic importance as the town of the Chief of Defence Staff, Alex Badeh. Consequently, our next target is Sambisa forest to strike back at those boys. You know we lost some officers and others were injured including a Lieutenant-Colonel. So, we have mobilised our air and ground forces for an attack. Air crafts have been mobilised and we are ready to dislodge them from their enclave", the source said.
THISDAY had reported early this week that the military would embark on a ferocious drive to recapture the lost territories and since then Mubi had been recaptured.
Findings revealed that the military authorities would be more decisive and unsparing in their approach at dealing with the Boko Haram menace and restore the country's territorial integrity.
The source lamented that the constant intervention from the political class and as well as barrage of criticisms from Amnesty International and other human rights groups affected military operations, citing how the former Chief of Army Staff (COAS) Lt-Gen. Azubuike Ihejirika was maligned for his aggressive approach, which was effective.
"The moment you are suspected and later confirmed of being a terrorist or their sponsors, you are gone. The moment you are aiding and abetting terrorism or found with weapons, you are gone within 12-24 hours because the military are being provoked.
"We no longer care about what the Amnesty international or politicians say. You cannot harbour criminals/terrorists that harm the country and expect the military to spare you", the source said early this week.