Go & Sin No More: Fed Govt To Return Sanusi's Passport, Seized Salaries [Report]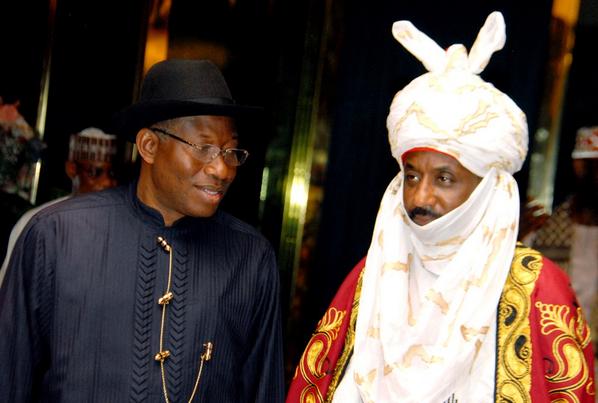 Emir of Kano Sanusi Lamido Sanusi is to have his impounded travel passport and withheld salaries, Nigeria's The Nation Newspaper reports.
Besides, the Kano Central Prison is to be relocated for better security at the Emir's palace. It is all as part of last Thursday's reconciliation with President Goodluck Jonathan.
The Presidency is believed to have decided to have a "total reconciliation with the Emir". Although the Presidency is aware of the closeness of the Emir to the leaders of the All Progressives Congress (APC), the olive branch is meant to ensure his "neutrality" during next year's elections.
According to the Nation, government source said: "After the open meeting last Thursday, the President and the Emir met at the inner recess of the Presidential Villa for about five minutes.
"Some political leaders from Kano, who witnessed the session, were all excited that there is a new understanding between the President and the Emir.
"Prior to the meeting, there had been apprehensions on likely hostile crowd against the President in Kano during the 2015 campaign.
"With the rapprochement, the Emir's travel passport and his withheld salaries and allowances will be paid. These are some of the gains of the meeting".
"If the traveling documents are released, the Emir will be able to travel abroad for check up and to meet his international friends who are desirous of investing in the Emirate," the source said.
The State Security Service (SSS) had in February seized Sanusi's passports. The SSS on May 14 prevented the former Central Bank of Nigeria (CBN) Governor from boarding a Turkish Airline flight to Saudi Arabia for the lesser Hajj (Umrah).
Prior to the seizure of the passports, Justice Ibrahim Buba of the Federal High Court, Lagos had on April asked the Federal Government, the police and the SSS to release Alhaji Sanusi's passport unlawfully seized from him in February.
The Kano Central Prison, which is over 80 years old, is to be removed to protect the ancient city and the Emir's Palace against recurring attacks by insurgents and other security threats.
The late Emir of Kano, Alh. Ado Bayero, escaped assassination attempts towards the tail end of his reign. It was gathered that security reports confirmed that the Emir's Palace was usually under threats because of the nearby prison yard where some insurgents were being detained.
It was also learnt that the prison had become overcrowded. The Kano Central Prison, which was built with 10 cells during the colonial days, has 1,254 inmates, 950 of who are awaiting trial with 800 in detention for capital crimes.