Again, Taraba Governor Suntai Heads To The UK For Further Treatment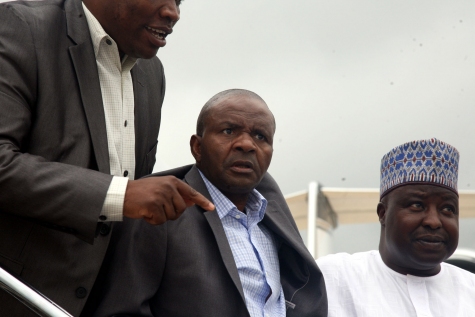 Governor Danbaba Suntai of Taraba State who is yet to recover after the unfortunate plane crash in Yola Adamawa State, has returned to the UK Sunday for further medical treatment.
Only a few weeks ago, the governor who has been declared brain damaged returned from treatment in the UK.
The Chief Press Secretary to the acting governor, Kefas Sule, confirmed last night that the state govt had made all necessary arrangements for Suntai's return for medication.
"I can confirm to you that governor Suntai would be returning to London for further medication and the state government is footing the bill for the trip which includes a chartered flight to the UK", he said.
The governor, who is expected to leave the country aboard a chartered aircraft, would be accompanied by his wife, Hauwa; his personal physician, Dr Kara; some family members and other personal aides.
Governor Suntai was involved in a plane crash near Yola Airport in Adamawa State in October 2012, in which he was the pilot. Since then he's been in and out of hospitals in Germany, US and the UK.
The governor who has refused to resign from office has caused a political logjam and Face-off between the acting deputy governor Umar and the alleged "Cabal" backing Suntai.