144 Inmates Freed In Sunday Attack On Koton-Karfe Prison In Kogi State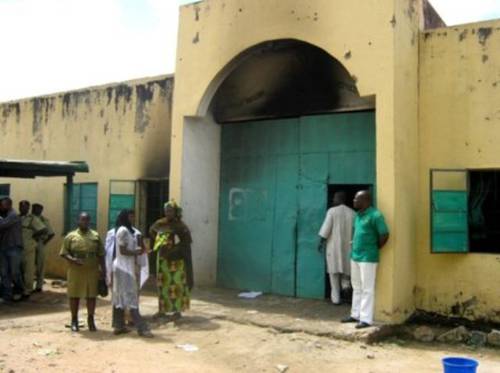 Estimated Reading Time: <1
The Koton Karfe Prison in Lokoja was Sunday attacked again by gunmen. Gunmen armed with dynamite freed at least 144 inmates in a raid on Koton Karfe Prison.
Reports say that the two-hour attack which freed 144 of the 145 prisoners held there. Most of these prisoners were being detained for armed robbery and murder.
The same facility, was attacked by Boko Haram insurgents in 2012, police said Monday.About 119 inmates escaped then.
"They blew up the thing with dynamite," police spokesman Emmanuel Ojukwu said of the attack which took place late Sunday.
Though Ojukwu insisted that "Up to 50 inmates escaped," but eyewitness account gave a different figure of those that were freed.
During the jailbreak, the facility was completely ransacked, its ceiling shattered and offices looted. Details emerging from State Controller of Prisons today, Adams Omale, state that the prison was attacked by "external forces" between 9:30 p.m. and 10 p.m. on Sunday, Saharareporters gathered.
Omale told the press that following the attack 12 inmates were re-arrested or returned to Koton-Karfe. He also disclosed that one inmate was shot dead during the chaos.
Kogi State governor Idris Wada visited the prison on Monday, and was encouraged by Comptroller-General of the Nigeria Prisons Service, Aminu Suley, who also visited the scene, to work on reforming and decongesting prisons, an effort that would be key in preventing similar incidences.
While assuring residents of the state that the Kogi State government would work to secure the area, the governor was shocked at the condition of the prison, namely its lack of proper beds. He promised to provide better facilities for inmates.
Wada also encouraged Minister of Interior Abba Moro to ensure new prison facilities under construction in the area were completed in promptly.
It was not clear whether the latest attack was also carried out by the Boko Haram insurgents. But in the latest video of the insurgents released on Friday, Abubakar Shekau warned of more attacks on Nigerian targets, after recent bombing in Bauchi and Gombe.
"There is no any ceasefire or dialogue with anyone instead it is a war with beating and killings, and guns that we are hungry for like food with Maggi cubes. We are on course; our focus and determination is to see that only Quran is being use in running the world, with Allah this is what we put ahead of us.", Shekau said.