2015: No Automatic Waiver For New & Returnee PDP Members – National Chairman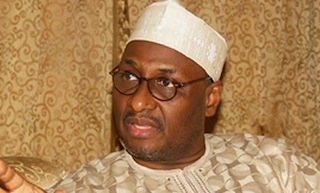 The National Chairman of the Peoples Democratic Party (PDP), Alhaji Adamu Mu'azu, said in Abuja that there would be no automatic waiver for both new and returnee members of the party.
He said this on Tuesday at the party's National Secretariat while receiving the report of its zonal re-integration committee for the North East even as Mu'azu, explained that all new members of the party would be required to personally write to the party leadership to seek waiver to participate in the party's primaries slated for November.
"We don't give automatic waiver like other parties. But one thing I can assure you is that anybody that will contest for any position should proceed to buy forms and apply.
"So that is the message. We don't do blanket case. Every application is on individual basis, just write a letter and we will process it," he said.
The PDP national chairman added that all of such applications would be treated and given consideration.
The occasion also served as a formal reception for former Governor of Borno, Sen. Ali Sheriff, and other members of the opposition in Borno who defected to the PDP.
Mu'azu, who described the defection of the opposition members to the PDP as dawn of a new era, assured them that there was no discrimination in the PDP.
He, however, charged party members in the states to work in harmony, to ensure its unity and victory in 2015 general elections.
Earlier, Sen. Sheriff, promised to ensure that the PDP reclaimed Borno in 2015 general elections.
He said his defection to the PDP was to pay back the people of Borno and help to change the mistakes made in the past.
Chairman of the committee, Sen. Ken Nnammani, expressed optimism that the PDP in Borno would henceforth know peace, stressing that the party had a singular objective to win the state.