APC Presidential Ticket: I Will Not Step Down For Anyone – Rabiu Kwankwaso Insists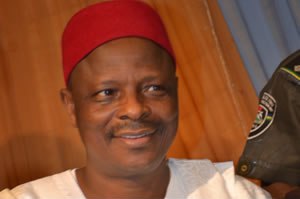 Governor Rabiu Kwankwaso yesterday said he will not step down for anyone in the race for the presidential ticket of the All Progressives Congress.
The Kano State governor is among APC's four presidential aspirants, the others being retired General Muhammadu Buhari, former Vice President Atiku Abubakar and Mr Sam Nda-Isaiah.
Since Senator Bukola Saraki announced he was shelving his ambition to be president last week, Kwankwaso is reported to have come under pressure to step down for Buhari in order to avoid rancour in the party.
There have also been calls for consensus candidacy in APC such that other aspirants would back the former Head of State.
But Kwankwaso told journalists in Kano yesterday  as reported by Daily Trust Newspapers that he was staying in the race and was not under pressure to quit for anyone. He also expressed preference for conducting primaries to going for consensus.
"I'm not under any pressure to step down for anybody. In fact nobody asked me to step down for anybody and doing that will not be even good for the party," he said.
"You see many people are used to either small parties or let me say medium-sized parties where people sit down and choose somebody in a room. Now we are talking about APC mega party which is not ANPP, CPC, APGA or ACN.
"It's a collection of all and we always tell people to look at the example of PDP. From 1999 to 2011, each election they had to go for primary elections not arranged election, but real elections.
"Even when we have sitting presidents in 2003 and 2011, there were elections, serious elections. And that's why the PDP has been winning all along and all others who are making arranged elections are losing elections.
"As you can see as fate would have it, now PDP has decided to do their own primary in the Villa and the APC is going to the field. That shows us clearly that APC will win elections and the PDP will lose election in 2015."
On the consensus arrangement, he said, "We have always been consistent, but you see many people who are soliciting a president for this consensus, many of them are having in mind that when people go and sit down they will give it to their candidate. That's consensus to them that's the main issue.
"And I believe that since this party is very strong, all candidates should go round the country and campaign, bring in more hands, more people. And that's exactly what we are doing. In the last few weeks many people joined APC because of me and they will continue to join especially if I have a ticket.
"Most of the guys in the PDP, the good ones, are my friends and certainly once I declare and get a ticket, they will cross over to APC or stay there and work for me. One of the advantages that I have is that it is not only APC that will vote, the PDP will also vote for me in the general elections."
Kwankwaso said he was confident the party will remain united after the primaries, and pledged to support any candidate who gets the ticket.
"If I win the primary election, I will be very happy and other contestants will work together, we are very close, all the three or four of us. And of course if anyone wins elections we will support him," he said.
Kwankwaso urged for free and fair elections. "And that's why we are saying to INEC and other people that they must not go and take dictations from the villa and come out and write figures because that will not be acceptable," he added.
The governor said his formal declaration earlier slated for tomorrow has now been rescheduled for Tuesday in Abuja.
He said the delay was because of the refusal of the Federal Government to grant him permission to use the Eagle Square for the event.
"It was the issue of venue that made me to change the date of my formal declaration because they did not give us approval to use the Eagle Square. It is now going to be on the 28th of this month.
We are still looking for venue but if they don't give us we will declare on the streets of Abuja because most of the venues are owned by them," he said.