Malala, Obama's Daughters, Jaden Smith & Others Enjoy Time Magazine's Attention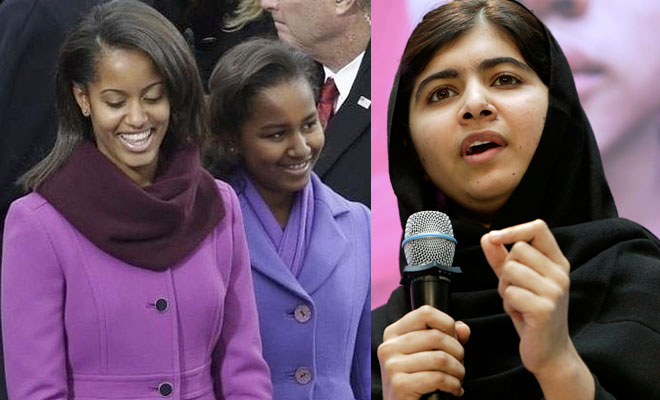 Great times for Malala Yousafzai ! After winning the Nobel Peace Prize, the 17-year-old Pakistani education activist has now been listed as one of Time Magazine's most influential teenagers.
The yearly award also had US President, Barack Obama's daughters; 13-year-old Sasha, 16-year-old Malia and seventeen other girls made the list which was made up of more females than males.
According to the magazine, the list was put together based on the teenagers' success in business, followership on Social Media and cultural importance.
The Jenner sisters, Kylie (17) and Kendall (18) made the list also. 16-year-old actor son of Will Smith and Jada Smith, Jaden also earned the magazine's recognition.
The other teenagers who made the reverred list include: Kiernan Shikpa (actress), Mo'ne Davis (Baseball Pitcher), Jazz Jennings (Transgender internet personality), Erik Finman (entrepreneur), Flynn McGarry (chef), Nash Grier (vine video star), the trio of Ciara Judge, Emer Hickey, Sophie Healy (Irish Scientists), Rico Rodriguez (actor), Shawn Mendes (singer), Becky G (singer), Lorde (singer), Salma Kakar (athlete), Lydia Ko (golfer), Rachel Fox (actress), Chloe Grace Moretz (actress), Bethany Mota (youtube star), Joshua Wong (activist), Austin Mahone (singer), Megan Grassell (entrepreneur), Troye Sivan (actor/singer), and Tavi Gevinson (fashion blogger)
What do you think of this list?