Charles Novia Draws Thought-Provoking Comparison Between Genevieve Nnaji and Omotola Jalade-Ekeinde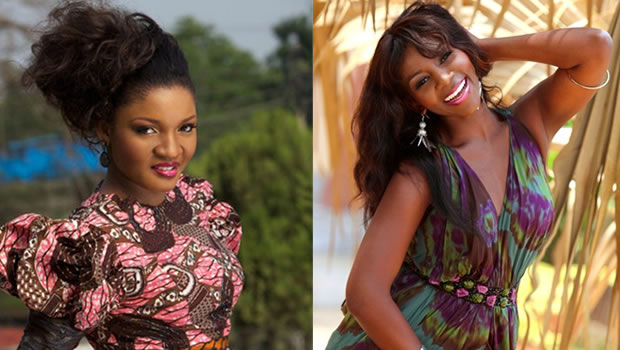 Actor, Filmmaker and critic, Charles Novia is at it again. This time he compares screen goddesses, Omotola Jalade-Ekeinde and Genevieve Nnaji in his latest write-up which he shared on his Facebook wall.
Here's the write-up and it appears he took an unbiased position:
***
Congratulations to the Nollywood recipients of the Nigerian National Awards which took place today in Abuja.
Kenneth Nnebue, Joke Silva and Omotola Jalade-Ekeinde were each given National Honours by President Jonathan today.
Kenneth Nnebue is generally acknowledged as the founder of the home video industry in Nigeria which later snowballed into Nollywood. His epoch – making movie 'Living in Bondage' which he Executive Produced in 1992 generated the unleashing of creative spirits in Nigeria who followed his footsteps and used the affordable home video technology to exhibit their gifts. Perhaps without Nnebue's foray into that sector, the likes of me and thousands of others would never have found the creative leeway we used to show our talents. His award is belated though. But better late than never.
Joke Silva is an actor's actor. A formidable screen personality and one of the most articulate thespians Nigeria has produced. She is an inspiration to millions and her award is just about a crowning glory she could ever receive from her nation. A priceless gem.
Omotola Jalade-Ekeinde is known to many. Her acting prowess is arguably in a class by itself and her being nominated as one of the world's 100 most influential persons by TIME magazine a couple of years back must have paved the way for her present national recognition by the Federal Government. Frankly speaking, I personally think she has more depth in acting than her 'rival' Genevieve Nnaji. I have worked with both of them in the past and also studied their acting styles. Omotola has the gift of role immersion. She gives everything into her characters. There is an organic style of interpretation she is gifted with. Very few actors have that. She Is not a Method Actor, mind you but she has delivered roles which many method actors would give her a standing ovation for.
Genevieve Nnaji, on the other hand, is a fantastic actress and a trend – setting one too who was first honoured by Mr President a couple of years ago. But she lacks the intrinsic ability to evolve artistically beyond her present heights in her career. That is my opinion. There is an underlying stereotype in her interpretation of her roles in many of her movies; a linear aloofness and veiled disdain at the thought of being pushed further down the exploratory lane. Of course she has an uncanny screen presence which generally veils her artistic shortcomings when it comes to acting and between her and her rivals, she comes tops on the fan base list. However, with an attitude which seems to say she has nothing more to prove, even the fans would become restless if new artistic exploits are not offered from her to which they can beat their chests.
And for fans of both actresses, this is a professional review of their acting abilities and not an attempt to rekindle old rivalries. Somehow, this post on the National Honours dove tailed into their artistry. All well and good.
Congrats to the Recipients once again.
***
What do you think of Mr. Novia's comparison?