'Jonathan's Endorsement Is In Conformity With The Norm Around The World'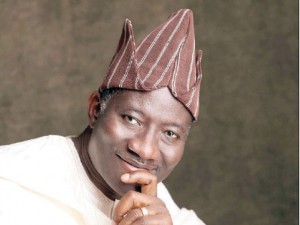 Special Adviser on National Assembly Matters to President Goodluck Jonathan, Senator Makanjuola Ajadi, weekend at Ilorin said the adoption of President Goodluck Jonathan as the sole candidate of the Peoples Democratic Party, PDP, in the 2015 presidential election, was the best thing to happen to Nigeria as a country.
He claimed that no party can defeat the PDP in the state and that the PDP will massively win in 2015.
"There is nobody who can defeat PDP in 2015 election. If it happens, do not call me Senator again, remove Senator from my name because it would not happen. Tell me who are the people remaining in Kwara APC in Kwara State?"
On the adoption of Jonathan as the party's sole presidential candidate, he " the norms all over the world is that a sitting President has the first option of refusal, in fact other political parties should emulate PDP in the future. Anywhere, a serving president is always given the first option of refusal. It is only when that President refuses that alternative would now be looked into. It is one of the best things that has ever happened in the political development of Nigeria.
Everybody knows all over the world that sitting Presidents are always given the first option of refusal to re-contest. Are we saying, we are still blind and we cannot see what is going on all over the world? This is a lesson for all other political parties in Nigeria to emulate in future. If anybody is on seat and he is performing well and he is willing to go for second term, it should be automatic ticket as it happened to President Jonathan."