Police Bust Armed Robbery Syndicate, Recover 17 Robbed Vehicles, Guns In Lagos [Car Details]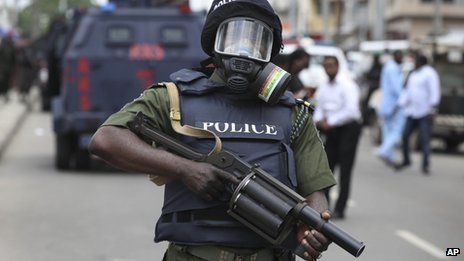 Police Detectives attached to the Federal Special Anti-Robbery Squad, (FSARS) Force CID Annex, Lagos, smashed a deadly armed robbery gang and arrested key members of the gang in addition to recovering seventeen (17) exotic cars and other exhibits, which they had stolen from different parts of the country. Also recovered from the gang were two (2) locally made single barrel pistols and assorted ammunition.
In a statement by Frank Mba, Force Public Relations Officer, the Police commenced Investigations into the activities of this notorious gang, which specialized in the robbery of state of the art cars and selling same to unsuspecting members of the public, following a petition by one of their victims who complained that he was robbed of two vehicles and other valuables on the 27th of June, 2013 at his Ile-Ife home.
Consequently, the arrest of one Omoniyi Ajewole, a 28-year-old male from Ilesha and his evidence upon interrogation led to the arrest of other gang members namely: 20 years-old Oluseye Idowu Jacob, who is also from Ilesha in Osun state, Oluwadamilare Rasaki, Ajisafe Olawale, Ogunniyi Sunday, Tolani Babatunde aka Biggy, Abubakar Umar aka Barry, Odeyemi Itunnu aka Gomina and Ayodeji Olumudi.
While commending the Police detectives for their commitment, diligence and professionalism which led to the breakthrough and subsequent recovery of the stolen items, the Inspector-General of Police, IGP MD Abubakar, CFR, NPM, mni, psc enjoined the citizens to continue to support the Police with relevant information, calling on all those who had lost their vehicles in the recent past to come forward with their proof of ownership so as to reclaim them.
Meanwhile, all the suspects connected with the crime will soon be arraigned before a competent court of law for criminal charges preferred against them.
List of recovered vehicles 
·  Toyota Highlander Jeep Model 2008 with Reg. No.  GWA-489-BC,
·  One Toyota Matrix car Model 2007, Reg. No. RSH-196-DA and other personal    effects belonging to the said victim.
·  One Toyota RAV-4 Jeep with Reg. No. EPE-477-AC,
·  Two unregistered Toyota Highlander Jeeps,
·  Two unregistered Toyota Saloon Cars, 2012 model,
·  One unregistered Toyota Camry 2009 model,
·  One Toyota Avensis Saloon Car with Reg. No. EKY-989-AX,
·  One M/Benz E-Class 350 Series with Reg. No. LND-919-EC,
·  One Honda Accord Coupe with Reg. No. EKY-857-CH,
·  One Toyota Camry car with Reg. No. YEN-902-SY.
·  Others are one Toyota Highlander with Reg. No. GWA-489-BC,
·  One Toyota Camry with Reg. No. AKD-882-AC,
·  One unregistered Sienna Bus and
·  One unregistered Toyota RAV-4 2009 model.