Emab Plaza Bombing: Dead Terrorist Was Conveying Another Explosive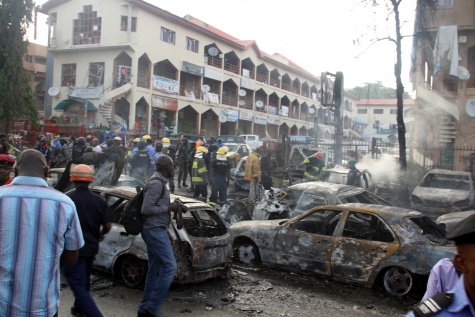 More explosives were seized from 2 suspects believed to have coordinated the bombing of Emab Shopping Plaza in Wuse, Abuja on Wednesday 25th June 2014. Bystanders at the scene of the explosion alerted soldiers on patrol to the two suspects who were speeding off on a power bike.
According to the defense information director, Major General Chris Olukolade, the soldiers swung into action engaging the escaping suspects and fatally wounding one of them who fell with his bag as the motorbike rider still made efforts to escape through the crowd.
The bag recovered from the suspect was later confirmed to contain a package of IED and other accessories including stop clock, mobile phones and other materials used for setting off explosives.  The suspect who was shot by the soldiers finally died in the hospital as he defiantly yelled "people will die!  people will die!!".
After the incident, 21 persons were confirmed dead while the wounded victims are receiving treatment in various hospitals. Two other suspects also arrested at the scene of the explosion are currently being interrogated.
In another development, a makeshift camp of terrorists in Miyanti and Bulungu have been sacked during a raid on terrorists' hideouts, in the area. Over 50 terrorists died in the clash. A fuel dump used for storing fuel for their operations as well as vehicles including Toyota Hillux trucks, Peugeot cars, and 7 motorcycles were destroyed in the raid, while 15 rifles, 11 machine guns and hundreds of ammunitions were captured by the troops.
In a separate encounter around Duguri near Nigerian – Nigerien border, troops of the Multinational Joint Task Force stormed a terrorists' hideout in a raid operation and recovered 18 rifles, 5 General Purpose Machine Guns, 25 hand grenades and IED making materials. A total of 53 terrorists died in the encounter while the troops lost 2 men and 5 others suffered varying degrees of injuries.
Meanwhile a suspected gun runner is presently undergoing interrogation in Plateau state. He was apprehended during a cordon and search operation by troops tasked to mop up illegal arms in the state.
15 suspects have also been taken into custody in Abuja after a raid that resulted in the recovery of 7 rifles, pistols, swords and other weapons. Military operations to track armed gangs will be sustained in various locations.