"Ekiti State Elections Was Fraudulent" Osun Governor, Rauf Aregbesola Insists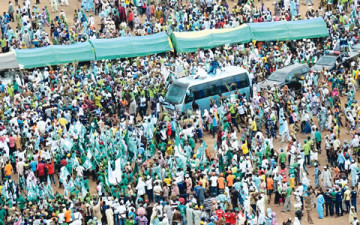 Osun State Governor, Mr. Rauf Aregbesola, has said that the All Progressives Congress lost the Ekiti State governorship polls due to fraud but maintained that it was impossible to rig him out in the August 9, 2014 governorship election in Osun.
Recall, incumbent APC governor, Kayode Fayemi had lost his election Saturday to the candidate of the PDP Ayo Fayose in Ekiti State.
"They perpetrated fraud in Ekiti but we are looking at them. They said that my days in office remain 43 days and I just laughed. What they did in Ekiti is not possible here in Osun. Osun is different and they know it. In 2011, all Yoruba states voted for Peoples Democratic Party presidential candidate but Osun people voted for Mallam Nuhu Ribadu, who was the Action Congress of Nigeria candidate. We are different in Osun. Don't let them scare you."
The governor who spoke in Yoruba in Ikirun on Tuesday during the continuation of his campaign which was held in the town. Aregbesola, said that it was impossible to oust him from power in Osun State because he still enjoyed the support of the masses.
"The people here today have shown that they are solidly behind us. We are not angry about the development in Ekiti State because it is part of democracy. Ekiti people have made their choice."
The governor said that he and his people did not have any problem with law enforcement agents who discharged their duties accordingly. The APC candidate further debunked rumour saying his administration had not sacked any worker since he assumed power in November 2006, saying he could not embark on such now.
The incumbent will in August be facing People's Democratic Party's Senator Iyiola Omisore to wrestle the management of the government house for the people of Osun state.