Gov-elect, Ayo Fayose Meets Kayode Fayemi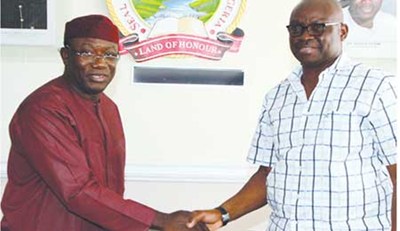 Ekiti State Governor, Dr Kayode Fayemi and governor-elect, Mr. Ayodele Fayose met in the Governor's Office in Ado Ekiti yesterday and promised to forge a unity among themselves and the people of the state with the setting up of a transitional committee.
The committee was to draw up a report for the smooth transition on October 16, 2014, following the emergence of Fayose, the Peoples Democratic Party flagbearer in the June 21 Governorship election.
Defeated All Progressives Congress incumbent,Kayode Fayemi said he would continue to identify with every action geared towards the development and progress of Ekiti State.
"They said my congratulatory message to the Governor-elect is unAfrican or unNigerian. I don't think it was so because that was what I was expected to do as a democrat.
"As an elected officer, I have no choice than to respect the wishes of the people. Our democracy is fragile and we have to do whatever we can as leaders to strengthen and deepen it the more" Fayemi said.
Speaking earlier, Fayose said his coming to the governor was borne out of the genuine intention to promote love and unity among Ekiti leaders. He praised the Governor for conceding defeat to him, saying this states manly conduct would forever remain in history.