PDP's Attempt To Oust 5 APC Governors Suffers Setback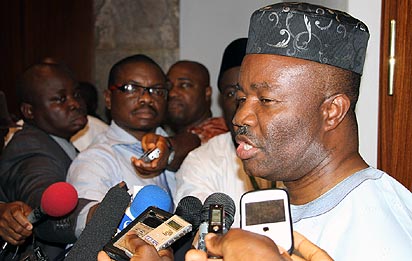 A suit filed by Peoples Democratic Party (PDP) to declare the seats of five of its governors  who defected to the All Progressives Congress (APC) has been adjourns indefinitely.
Presiding over the matter at a federal high court  in Abuja, Justice Gabriel Kolawole adjourned the case for want of diligent service by PDP.
Governors Abdulfatah Ahmed of Kwara; Chibuike Amaechi of Rivers; Rabiu Kwankwaso of Kano State;  Wamakko of Sokoto State and Murtala Nyako of Adamawa had on November 26, 2013 left the PDP for the APC. The judge held that PDP had failed to properly serve the governors the court processes as earlier ordered by the court and stated that the party must comply with the law.
Kolawole held that PDP failed to follow the procedures allowed by the law in reaching the defendants since December 10 when the court action was instituted.
"The court cannot assume jurisdiction until the plaintiff (PDP) has done the needful and put its house in order on the effective service of court summons," the judge said. "The purported service of court process allegedly effected at No. 40 Blantyre street, being the new office of the APC, was earlier declared illegal, invalid, defective and, accordingly, dismissed by the court for not having the court's endorsement. "The issue of service of originating summons by the plaintiff on the defendant is fundamental before any court can take further action against the defendant."
Kolawole further advised PDP to formally write the court and attach the evidence of proper service of court processes on the defendants before the court resuscitated adjudication.
He said what the PDP ought to have done was to come back to the court to legally amend the order of service before it would become effective on 40, Blantyre Street, the new APC national secretariat. Dr Alex Izinyon, counsel to PDP, had said that the suit was brought pursuant to Section 177 (c), 221 and 222 (c) of the Constitution of the Federal Republic of Nigeria.
Mr Damian Dodo, who held brief for Izinyon on April 7, prayed the court for leave to regularise the party's service on the defendants as granted by the court. Five senior lawyers, who led about 100 other lawyers for the defendants, had, in their respective arguments, objected to the PDP's motion for substituted service.
The senior lawyers are Chief Akin Olujinmi for Ahmed, Lateef Fagbemi representing Amaechi, Yusuf Alli for Kwankwaso, Awa Kalu  for Wamakko and John Baiyeshea for Nyako.
Additional Content Credit: TheCable