Opinion: Gov. T.A Orji's Mission Is To Destroy Abia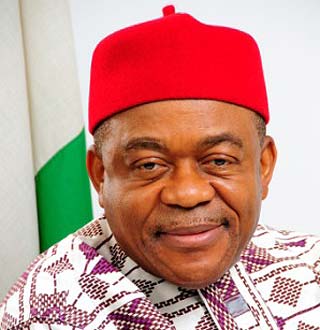 Ordinarily we will not agree that the mission of the Governor of Abia State, Theodore Orji is to destroy Abia State. But from the look of his plausible deception and the use of propaganda in governance and against personalities' views, we have no option but to believe in whole that he has such a deadly mission.
He is a man who has not kept inconsiderate attitude away to do the needful. The once economic hub of Nigeria and, by extension Africa, has become the personal economic hub of the governor and his family members.
Known for his blame-game why his government has not been performing, Gov. T.A Orji and his hirelings like Obed Nnaji Asiegbu, Eddie Onuzurike, Eze Chikamnayo, Ugochukwu Emezue, Cosmos Oluchukwu, Okey Ezenwa and many others, are on this impish mission to destroy the state.
We are not talking about those they called elders like Ike Nwachukwu, Uche Chukwumereije, Onyema Ugochukwu etc who are on the pay role of the government to the tone of N35m each every month.
This is the reason a place like Aba has been raped and its burial nuptial tied. It is a place that has been abandoned and neglected. This government to absolve itself of the shame that Aba has become lately announced that it was set to build about 9 roads in the state, when what we saw were whitewash projects.
Against this backdrop, to many Abia people: The EFCC must wait for T.A Orji, so called Ochendo Global on the 29th May 2015 and take him back to prison where he belongs. EFCC has an obligation to get back all the ill-gotten money he has stolen from Abia citizenry and confiscate all the lands he has bought all over the country with pretentious names and, hand them back to Abians. The worst state in the eastern region is Abia State under T.A Orji.
While the government is boasting that it has at least developed Umuahia, but the people would tell T.A Orji and his out-bursting aides that the place does not even have 'common traffic light.' Ndigbo would say, what a shame! "Ochendo' will retire in Akwa Ibom at the end of his draconic corrupt regime where government works," Abia people would say.
Known as an evil-spirit incarnate, T.A Orji has succeeded in his useless mission to destroy Abia. He thought that by bribing all the senators, kings, reps members and all that will save him. He is changing Abia State to his own change of hate, deception, divisions and character assassination.
————————————–
Written By Olaniyi Olayinka
Disclaimer
It is the policy of NewswireNgr not to endorse or oppose any opinion expressed by a User or Content provided by a User, Contributor, or other independent party. Opinion pieces and contributions are the opinions of the writers only and do not represent the opinions of Newswirengr