Generated Power Hits A Record High Of 4,105Megawatts – Nigerian Government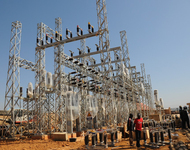 Even as majority of Nigerians groan over the worsened epileptic power situation in the country, Nigeria's government on Wednesday announced that the country's generated power has hit a record high of 4,105megawatts.
A statement issued by the Special Assistant to the Minister of Power on Communications, Ms. Kande Daniel, the rise in power generation was attributed to the reduction in system collapses, as well as improvement in services delivery, among other things.
Since the physical handover of the 18 successor companies of the defunct Power Holding Company of Nigeria to private investors by the President on November 1, 2013, electricity generation in the country has hovered around 3,000MW.
Statement reads, "Nigeria's power generation is coming up again with the current generated megawatts hitting over 4,000 as at Tuesday."
According to the ministry, the improvement was already felt in some areas even as the nation's industrial nerve-centre, Lagos and environs got the highest allocation, which was a maximum load totalling 985.0MW.
It says "The maximum load allocated to Abuja through Katampe and Gwagwalada power line was 410.80MW,".