Group Demands The Immediate Release Of Activist Umar Goodman Unlawfully Arrested By Gov Idris Wada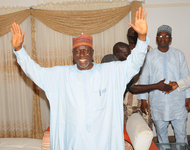 Estimated Reading Time: <1
Press Release
KOGI STATE GOVERNMENT SHOULD RELEASE ACTIVIST UMAR GOODMAN NOW
The Youths Against Human Rights Violation And Corrupt Practices (YAHVCP) demands the immediate and unconditional release of Umar Goodman, a Kogi State Activist who was unlawfully arrested by police in Kogi State allegedly for demanding the removal of the state governor, Idris Wada. Umar Goodman was whisked away by armed police officers Saturday-allegedly on the orders of the governor- after he led two protests calling for Mr. Wada's sack.
Mr. Goodman's family said police loaded in three trucks stormed their residence in Idah, Kogi State at about 5 a.m. on Saturday; beat him up in front of his wife and children before he was taken to the police headquarters in Lokoja where he was detained over the weekend.Mr. Goodman was later arraigned before a magistrate court in Lokoja, Monday, charged with thuggery. The case was adjourned by the presiding Magistrate, C.O. Oyelude, till April 15. Mr. Goodman was ordered remanded in the prison until the next hearing.
This reprehensible and repressive action of the Kogi State Government is part of the despotic measures aimed at suppressing legitimate protest against injustice and miss-rule. This characteristic despotism of the Idris Wada led Kogi State government, further confirms its lack of commitment to genuine democratic culture and it is a throwback to the era of military absolutism with its associated abuse of the fundamental rights of people to freedom of expression, among others.
We strongly assert that Nigerians have fundamental rights to peacefully protest against any anti-people action of the government. We wish to state that the rights to freedom of association, expression and protest are surely guaranteed in the constitution and charters on human rights.
We call on labour, the press, pro-masses organisations and individuals, nationally and internationally, to condemn the unlawful arrest and detention of the pro-democracy activist of Kogi State Mr Umar Goodman and demand his immediate release. We also call on labour and pro-masses organizations in Kogi State not to be cowed by the repressive and despotic action of the Idris Wada led government. There should be Day(s) of Actions to include rallies, industrial strikes, peaceful protests in Kogi , to press home the demand for the release of Mr Goodman and an end to anti-poor, neo-liberal economic reforms of the Kogi State government. The protest against any unpopular government policies should be linked with daily struggles of workers and poor masses for functional education, electricity, decent jobs, living wages, water, health care, good road, food and other basic needs of life.
Kenneth Uwadi
YAHVCP Coordinator
Amaka Didanda
YAHVCP Media Affairs Director