For Ignoring Administrative Directives, NFF Won't Renew Keshi's Contract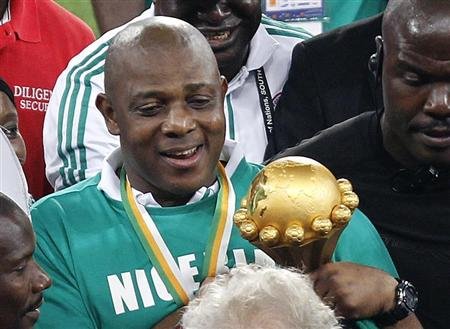 Estimated Reading Time: <1
Vanguard Newspaper is reporting that the Nigeria Football Federation (NFF) is not likely to renew Stephen Keshi's contract as Super Eagles manager after the summer World Cup in Brazil irrespective of the team's performance.
A source at the football house disclosed that the federation has started bracing up for life after Keshi's tenure, insisting that the coach has limited tolerance for candid advice from the authorities.
"I can tell you right here that Keshi's contract will not be renewed. Of course, another test case for him is the World Cup; we have given him all the necessary assistance and free hand he requires to succeed, but the World Cup will be the destination point between us," a member of the NFF board said.
The source, who did not disclose specific offence the coach committed simply said, "Don't you read the newspapers? He ignores simple official administrative directives, fails to pardon even the most cool-headed and experienced Nigerian players. We cannot further harbour such inconsistencies in our fold."
The NFF, the source admitted appreciates some of Keshi's achievements within the continent, but that it was not certain Keshi would replicate such successes on the global stage.
"Let me inform you, players form synergy among themselves and when any of them feels ill-treated, others will subtly queue behind their colleague, this is the kind of things the federation wants to avoid but instead of avoiding it, the coach is magnifying it everyday. This we understand is a ploy for an excuse should the team fail to deliver in Brazil."
The NFF technical committee recently issued a query to Keshi for failure to attend official engagement in Abuja.
Secondly, the federation's technical committee members could not fathom why the coach refused to invite certain players to the national team.
Keshi, it was gathered has also jettisoned plans for a technical assistance suggested to him by the federation, but rather chose to go to the World Cup with a depleted technical crew.