Religious Crisis At The Ongoing National Conference, Muslims & Christians Disagree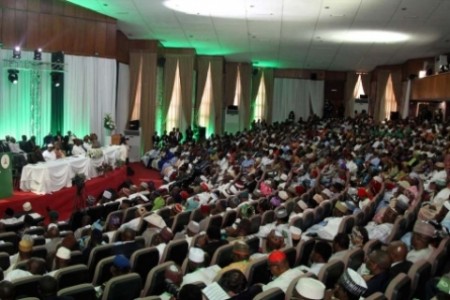 At the resumption of the plenary session of the issue of religion pitched Nigerians against one another at the national conference with delegates disagreeing over religion.
The debate started when the assistant secretary admin, Prof. Mahmud Yakubu told the delegates that the secretariat was making arrangements for Muslim delegates to have their daily prayers.
His assertion was quickly followed by a request by Chief Mike Ozekhome (SAN) who demanded for a similar provision for Christians who he noted were presently observing the period of lent.
Religious tension was further stoked after Pastor Tunde Bakare, himself a former Muslim, questioned the propriety of the conference chairman, Justice Idris Kutigi interjecting his statements with Arabic Islamic incantations.
Bakare, confessed that the Chairman, had confused him twice since the conference commenced.
First was on Monday and the second was yesterday as he advocated for the adoption of a standard language through out the life span of the conference.
Bakare warned that religion must not be allowed to divide us, but must unite us.
"Mr. Chairman, I did not understand you today, again I did not understand you, yesterday. Religion should not divide us, but unite us. We must adopt a standard language if not, I will say Praise the Lord and at the end of the day, we will now have a church service instead of a National Conference."
At yesterday's session, Muslim delegates faulted claims by representatives of the Christian Association of Nigeria that the 1999 Constitution was skewed in favour of Islam.
Two CAN representatives, Bishop of Kafanchan Diocese of Catholic Church, Joseph Bagobiri and Pastor Emmanuel Bosun (Ogun State), had on Tuesday raised the issue which they described as unfair to Christians and Christianity in the country.
They had both submitted that the constitution of Nigeria was skewed in favour of Islam and Muslims with a call on delegates to ensure that the imbalance was corrected.
Bagobiri said the Nigerian constitution did not have any mention of Christianity or the church, but Islam was repeatedly mentioned.
Countering this position, Muslim delegates claimed that the Nigerian constitution was a Christian document, contrary to the submission by the two Christian leaders.
A retired Justice of the Supreme Court, Argungu Usman Mohammed, who recalled his days on the bench said all courts in Nigeria, except Sharia courts and customary courts, applied Christian laws.
Mohammed said: "I want to correct one misleading statement. Yesterday, two members of CAN, Bishop Joseph Bagobiri and Pastor Emmanuel Bosun made statements concerning the constitution of Nigeria. They said it was an Islamic constitution. I am sorry to hear this from people who are educated like them.
"When the British conquered northern Nigeria, they met two religions in that part of the country. Islamic and the customary religions were in place. They introduced their own common law. Common law is of Christian origin. They also introduced statute of general application which is also Christian law. They made these three laws to work together. They brought some provisions of the Islamic and Customary laws which they said were contrary to principle of natural justice, equity and good conscience. The laws have continued to exist together.
"I became a magistrate in 1966 and rose up to Supreme Court. I am an Islamic scholar. As a magistrate, I worked with the common law. As a High Court Judge, I worked with the common law.
"I was at the Court of Appeal as a Justice of the common law and a justice of the Shariah.
"A misleading report was given yesterday. To say that Nigerian constitution is an Islamic law is absolutely wrong. Nigerian Constitution is Christian", he added.
Another Muslim delegate, Alhaji Yusuf Kawu, cautioned that no nation could succeed in an atmosphere of distrust.
A Christian representing the minority from Bauchi, Dr. Salae Dauda, in his own presentation informed the conference that it was almost impossible for Christians to secure parcels of lands to build churches.
"Sometimes Christians have to go underground in order to worship. In some states in the north, you cannot get a plot of land to build a church. Northern minorities have been so marginalised. We are advocating the creation of a separate geo-political zone for the minorities in the north," Dr Dauda advocated.
Prof. Ibini Ekpe, an Igbo Islamic leader from Ebonyi State complained about the under-representation of Igbo Muslims at the Conference.
He said, "I am sad. I am the only Igbo Muslim at this conference. We are not few as people think we are. We are grossly under-represented."
In his presentation, the elder statesman and Ijaw leader, Chief Edwin Clark, appealed to delegates to speak as Nigerians and not as Christians or Muslims.
He said religion had been taken to a height threatening the peaceful coexistence of the people.
He said, "I have a slogan which is becoming national. When you are 70 years and above, you are in the departure lounge and on your way to board. But God has allowed us to stay to clean the mess we created when we were in office. Nigeria belongs to all of us. No one is inferior to the other.
"There is no first-class or second-class citizen. Anybody should be free to aspire to any position. Let us accept one another. I have seen that some of us have taken religion so far. Nigeria was already in existence before those who brought religion did that. Let us be patriotic. If you are a Northerner or a Southerner and we do not come together, there will no basis to be here. We are not here as Christians or Muslims. Let us live together."
Prof. Lai Erinoso, who expressed fears about the emotion attached to religious issues, said he almost took the exit door on Tuesday when the atmosphere became charged.
"When we begin to discuss issues like resource control and religion, emotion will go high. Let's conduct our debate in civility. Let us cultivate the sprit of give and take", he appealed to other delegates.