COSEG Regrets Appointment of Suspected Murderer Of Bola Ige As Police Minister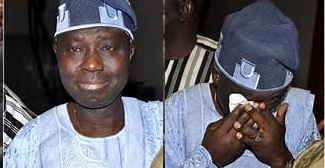 Estimated Reading Time: <1
The Coalition of Oodua Self-Determination Groups (COSEG) considers the appointment of Mr. Jelili Adeshiyan as the Police Affairs Minister an insult to the Yoruba people. Mr Jelili Adesiyan has been linked to the death of the former Attorney-General of the Federation, Chief Bola Ige.
"It is also an attempt to shield him and his cohorts from prosecution over the death of the former Attorney-General of the Federation, Chief Bola Ige," the group disclosed.
At the end of its monthly meeting where the state of the nation was discussed, the body through a statement by its Chairman and Secretary, Ifedayo Ogunlana and Rasak Olokoba described the appointment as an attempt to pervert the course of justice and also a disservice to the memory of Chief Bola Ige.
"A man, who is an aide of Senator Iyiola Omisore, known for violence and brigandage, cannot be trusted in such a position. He is still under investigation for the murder of Ige, yet he is a Minister in charge of a government agency.

"This calls to question the anti-corruption crusade of the Jonathan administration."

"We have noticed the hatred President Jonathan has for our people. This is why a suspected murderer could be appointed as a Police Affairs Minister."
The group regretted the hast confirmation of the minister who they consider a suspected murderer despite senators fro Osun stat opposing his nomination.
"We are confused on how a man standing trial for murder could have scaled the screening of the security as well as that of the Senate.

"It is also worrisome how our security system works if a suspected murderer, who has a case in court, could scale through security screening.

"This is why government has been unable to stop Boko Haram insurgency in the Northeast," the group said.

"The appointment of Adesiyan is not only mischievous, but also reckless, immoral, anti-people and a dangerous trend in the political development and appointments because he who asks for equity must come with clean hands.

"The appointment of Adesiyan is flawed. The Jonathan administration cannot continue to scorn the late Ige, an ex-Justice Minister."
COSEG promised to resist any purported attempt by the President to use the Minister in rigging the forthcoming governorship election in Osun State.