Nigerian Federal Government Spent N3.38trn On Security In Just Four Years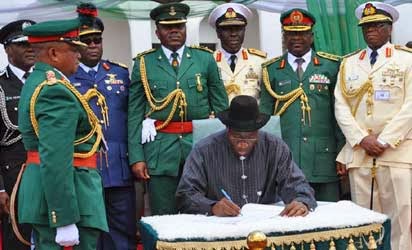 Estimated Reading Time: <1
Leadership Newspaper reports through its recent findings that the Nigerian Federal Government has spent nothing less than N3.38 trillion in tackling security challenges in the country in the last four years, recent findings have shown.
According to the online forum's (Leadership) checks, that amount only covers the allocations to the various agencies involved in security issues such as Defence (Army, Navy and Air force), Police, Ministry of Interior (paramilitary) as well as the Office of the National Security Adviser.
In 2010, the budgetary allocation to security was N621.17 billion. In 2011, the allocation was increased by 43 per cent to N888.54 billion as insurgencies in the northern part of the country particularly had increased.
In 2012, the security allocation rose by 3.9 per cent to N923.54 billion. Last year, the allocation was further increased by 14.26 per cent to N955.46 billion.
Further analysis shows that of the sum, 83.56 per cent of the allocation amounting to N2.91 trillion was projected for recurrent expenditure while N381.76 billion representing 16.43 per cent was budgeted for capital expenditure.
Despite these very huge allocations, insurgencies have been on the rise in the country especially in the North-East region.