Police Arrest A Dozen People Who Allegedly Tortured Ejigbo Market Women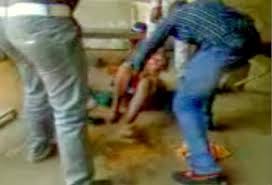 Estimated Reading Time: <1
The Nigerian Police Force through a statement by the Force Public relations Officer, CSP Frank Mba has revealed that a dozen people have been arrested in connection 
with the torture of three women at Oba Morufu International Market, Ejigbo, Lagos.
The victims two of whom were  young girls were arrested alongside their mother. Their abductor suspected to be members of  Oodua People's Congress (OPC) and some market association officials. Their torturers  also extorted the sum of fifty thousand naira from the father of the victims in return for their freedom.
Another victim, Juliana Agoma, a native of Republic of Benin, was taken to Cotonou by her father. She went on to die from injuries she suffered during the torture.
The suspects include: Saheed Adisa, Lateef Tijani, Ahmed Adisa, Oloruntoyin Dauda a.k.a Iya-Oja, Adenkule Adenuga, Jimoh Busari and Azeez Akinosun. 
Another of the suspect is Isiaka Waidi (the Baba-Oja of the market), he is said to be the mastermind of the whole incident. Others are Haruna Abdullahi and Buhari Yusuf who mixed the concoction of pepper and alcoholic spirit that were applied on the private parts of the victims and other parts of their bodies.
Earlier this year, the Inspector-General of Police, MD Abubakar had ordered that the Federal Special Anti-Robbery Squad (FSARS), Force Criminal Investigation Department (Lagos Annex) take over the case from the Lagos State Police Command so as to ensure a quicker resolution and investigation.
Crack detectives led by DCP Chris Ezike swung into action and conducted investigations which has now led to the arrest of the suspects
The following suspects were declared wanted by the police:
'Tiri, an alleged member of OPC who was captured in the video footage and alleged to have stripped naked one of the victims, Ajoke Agoma, mother of the two other female victims in the presence of her husband, Otepa Oluronti, Akeem and Machael Abolore whose whereabouts are yet unknown but who have been implicated in having played active roles in the heinous crimes against the victims.'
The IGP has also appreciated and commended the Human Rights, Civil Society, Women Support Groups, the Office of the Public Defender, Lagos State Ministry of Justice and everyone who assisted police in this case and other similar cases. The IGP also urged the public to assist the Police with information that will lead to the arrest of the suspects at large.