Jonathan Witch-hunting Sanusi Lamido For Doing His Job- Kano Emirate Council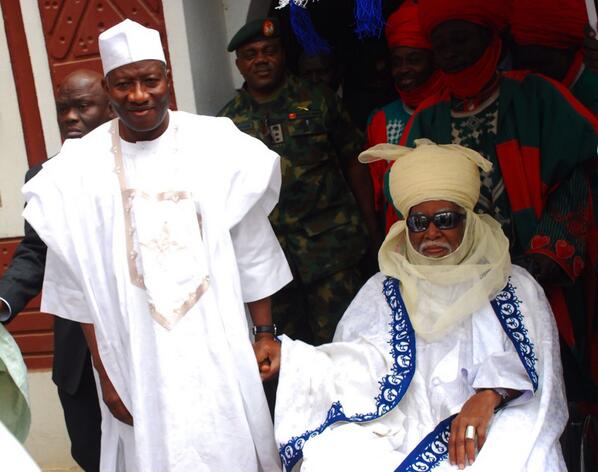 Following the suspension of the Central Bank of Nigeria Governor, Sanusi Lamido Sanusi, the Kano Emirate Council led by Emir, Alhaji Ado Bayero has described the action as abuse on the rule of law.
Sanusi Lamido who is of the royal family and a possible next on the throne after the current Emir was suspended by President Goodluck Jonathan over what the government termed "Financial recklessness".
His suspension came shortly after he exposed the Nigerian National Petroleum Cooperation for not accounting for 20 billion dollars.
According to the Emirate council in a statement, Sanusi was being persecuted because he exposed the corruption in Nigeria's petroleum industry. The Emirate further advised President Goodluck Jonathan not to personalize issues instead treat all Nigerians with equality and fairness.
The statement titled "Suspension of CBN Governor: Abuse on the Rule of Law", was signed by Alhaji Tijjani Hashim who is the Galadiman Kano.
It says the council believes that adherence to the rule of law is paramount and important to any government, more importantly a democratically elected government, which preaches total adherence to the rule of law.
The statement reads: "As the President has suspended the Governor without the recourse to the rule of law, we believed it was a deliberate attempt to witch-hunt him and desperation and impunity at the highest order by the Federal Government.
"We and many see the President's action as a deliberate witch-hunt of the Governor for doing his job by letting Nigerians know the alleged fraud going on in the petroleum industry and to divert people's attention from this monumental fraud.
"Despite all the awards and commendations the Governor received nationally and internationally, which Nigerians and even the President are proud of, the significant positive changes to the economy, confidence in depositor's money and dynamic banking reforms, but it's unfortunate the Governor will be paid back this way."