National Housing Fund e-Card Will Eliminate Fraud – Jonathan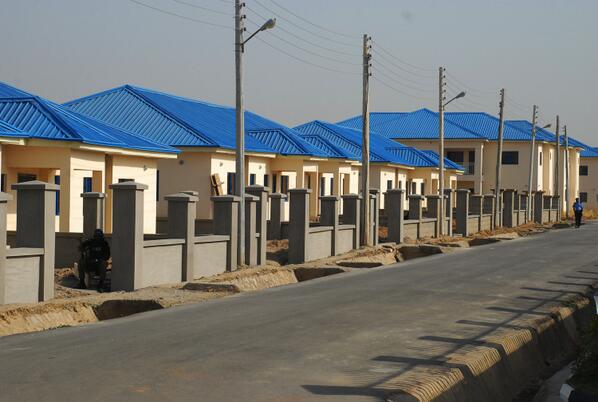 Estimated Reading Time: <1
NAN
President GoodLuck Jonathan on Thursday said the National Housing Fund e-Card would eliminate fraud and promote accountability and transparency in the sector.
Jonathan made this known while inaugurating Aviation Village Estate and National Housing Fund e-Card in Abuja.
He said that the e-Card was one of the integral measures of his administration for more transparency and accountability to the management of the National Housing Fund (NHF).
He said that every economy, the housing sector played an important role in economic empowerment, job creation and wealth generation.
He said that the 270 housing units built by Sun Trust Real Estate Investment Ltd.and financed by Federal Mortgage Bank of Nigeria (FMBN) had a multiplier effect on the economy.
"I want to commend SunTrust Real Estate Investment Ltd., the strong partnership with the FMBN toward the completion of the aviation estates.
"This partnership illustrates the huge benefit in driving of the public private partnership arrangement for effective housing delivery and economic development,'' he said.
Earlier, Mr Musa Sada, the Supervising Minister of Housing and Urban Development, said the commitment of Mr President on revitalising the housing sector was underscored at the presidential retreat on housing recently.
Sada said that the commissioning of the two projects was another giant step toward actualising the vision of Mr President for repositioning vibrant housing and urban development sector.
He said that the estate being commissioned was initially conceived to cater for the housing needs of the Nigeria Air force staff, the scope was subsequently widened to other public servants.
"Today's commissioning ceremony also indicates that the delivery of affordable housing to Nigeria is possible regardless of inherent funding challenges.''
In a remark, Mr Gimba Kumo, the Managing Director of FMBN, said that the NHF e-Card would ensure proper record keeping, transparency and accountability for NHF collection.
"The e-Card is a huge step forward in delivering the advantages of speed, accuracy, transparency, accountability and superior customer experiences to NHF contributors.
"The card serves dual purposes; it serves as an identification card as it carriers the name, participation number and passport photograph of every registered contributor.
"It will enable a contributor access records of his or her contributions using any of the IT channels such as ATMs, Point -of-Sale (POS) terminals and the internet,''Kumo said.