Another ASUU Strike Imminent Over FG's Failure To Meet MOU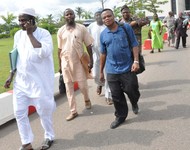 Estimated Reading Time: <1
By Adebayo Waheed
Another strike by members of the Academic Staff Union of Universities (ASUU) is imminent as there is fear over the implementation of the Memorandum of Understanding reached with the federal government.
The national treasurer of ASUU, Dr Tunde Aremu, who gave this hint while speaking at a luncheon held in honour of media for their roles in the last strike in Ibadan yesterday, disclosed that government was yet to release the N220 billion for 2014-2018 programmes.
He warned that the gates of the universities might again be shut should government refuse to implement the MoU reached at the tail-end of the last strike.
He noted that the money was to be released on quarterly basis and deposited at the Central Bank of Nigeria (CBN).
Aremu explained that the money was for the rehabilitation of the country's university system but expressed fears that the MoU reached with the government before the last strike was called off might end up not being implemented as agreed.
"We do not want another strike as time wasted is life wasted," he said.
He wondered why government allowed the last strike to last for five months when it knew that ASUU was making a patriotic demand.
While commending the media, Aremu said that the emancipation of Nigeria depends on the media and urged them not to rest in their oars.
He said the struggle for the implementation of the 2009 agreement had been partially won and called on the media to beam their searchlights on the universities on how the money would be spent.
Also speaking, the chairman University of Ibadan chapter of ASUU, Dr Olusegun Ajiboye, said the union had no option than to proceed on the inevitable strike since all avenues to let government realize the need to implement the agreement had failed.
He lamented that despite the huge resources at the government disposal, it had failed to effectively fund the country's educational system.
Meanwhile, ASUU has condemned the sack of 92 workers of the Cocoa Research Institute of Nigeria (CRIN), Ibadan, by the executive secretary.
Ajiboje challenged the media and civil society groups to beam their searchlights at heinous activities going on at the institute, describing them as unacceptable.