Marijuana Ads Banned On Google, Facebook And Twitter
Estimated Reading Time: <1
By Matt Ferner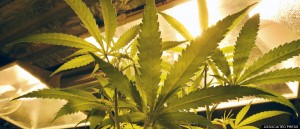 "Ganjapreneurs" are going to have to find another way to market their legal products online because Google, Facebook and Twitter are not going to let marijuana businesses advertise on their websites.
Even in states like Colorado and Washington which have legalized the sale of recreational marijuana to adults, the Internet giants are sticking to their existing drug advertising policies.
"If Google and Facebook can target alcohol ads to adults, they should be able to target ads to adults about a less harmful substance like marijuana in states where it is legal," said Mason Tvert, communications director for Marijuana Policy Project and key backer of Amendment 64 which legalized recreational weed in Colorado, to The Huffington Post. "Such an arbitrary and hypocritical decision is not going to sit well with a lot of people who utilize these websites."
According to the Facebook Advertising Guidelines, "Ads may not promote or facilitate the sale or consumption of illegal or recreational drugs, tobacco products, or drug or tobacco paraphernalia."
Tim Rathschmidt, a spokesman for Facebook, told HuffPost that they do allow ads to promote advocacy and even the legalization of marijuana, however the ads cannot promote or facilitate the sale or consumption of illegal or recreational drugs. "The legality around the sale and use of marijuana greatly varies around the world," Rathschmidt said, "which is part of the reason why we strictly prohibit the promotion of the sale and use of the drug itself. The risk of attempting to allow ads promoting the drug in certain states or countries where it is legal is too high for us to consider at this time. However, we work pretty hard to differentiate ads promoting the sale or use of the drug versus ads promoting advocacy or the legalization of the drug. The latter is the type of content we do not want to censor through ads, and is widely considered different than something promoting the actual drug itself."
Rathschmidt noted that Facebook has no plans to change the policy currently, but that they do often revisit policies.
Twitter has a similar drug policy prohibiting the promotion of "drugs and drug paraphernalia globally."
The Twitter policy applies to illegal drugs which they define as a "substance sold to induce unnatural euphoria, unnatural highs or lows, psychoactive effects, or altered reality," all accessories related to drug use like bongs or pipes and even products or services that feature access to drugs like a dispensary directory.
Google's official AdWords policy doesn't allow the "promotion of illegal drugs, legal or synthetic highs, herbal drugs, chemicals and compounds with psychoactive effects, drug paraphernalia, or aids to pass drug tests." Google specifically cites marijuana as one of the several drugs for which it does not allow ads and confirmed with HuffPost that the company hasn't made any changes to the current policy, but that updates and reviews of their AdWords policies are frequent.
Both Google and Facebook do allow alcohol advertising.
Adweek first reported on the advertising problem for marijuana businesses on Google and Twitter saying that neither company is open to sponsored search ads or tweets from small marijuana shops.
The ad policies aren't exclusive to Google, Facebook and Twitter — other major search engines, like Bing and Yahoo, also have strict bans for drug-related advertisements on their websites and specifically site "recreational" drugs as part of the ban.
Article orginally published HuffPost but the media team reached out to Twitter for comment and will update if one is recieved.