Proposed New Egyptian Constitution Backed By 98.1%

Estimated Reading Time: <1
NAN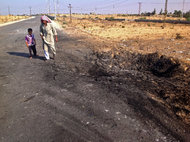 A proposed new Egyptian constitution has been backed by 98.1 per cent of people who voted in a referendum, officials have said.
Turnout was 38.6 per cent of the 53 million eligible voters, the election committee said.
The BBC reports that the draft constitution replaces one introduced by Islamist President Mohammed Morsi before he was ousted.
The banned Muslim Brotherhood, which Mr. Morsi comes from and which boycotted the referendum, dismissed it as a "farce."
The referendum was seen as a vote on the legitimacy of his removal and of the army, which toppled him in July last year.
Several people died in violence involving Mr. Morsi's supporters on the first day of voting.
There were further clashes with the security forces on Friday in which four people died, the Health Ministry said.
Election Commission head Nabil Salib called the vote an "unrivalled success" with "unprecedented turnout," AP news agency reports.
Later on Saturday, United States Secretary of State John Kerry urged Egypt "to fully implement those rights and freedoms that are guaranteed in the new constitution."